LAGASTA Late Summer Compilation Vol. 8
Gasboy
LAGASTA
Late Summer Compilation Vol. 8
It's that time of the year when we love to pretend that summer never ends with our annual "Late Summer" compilation.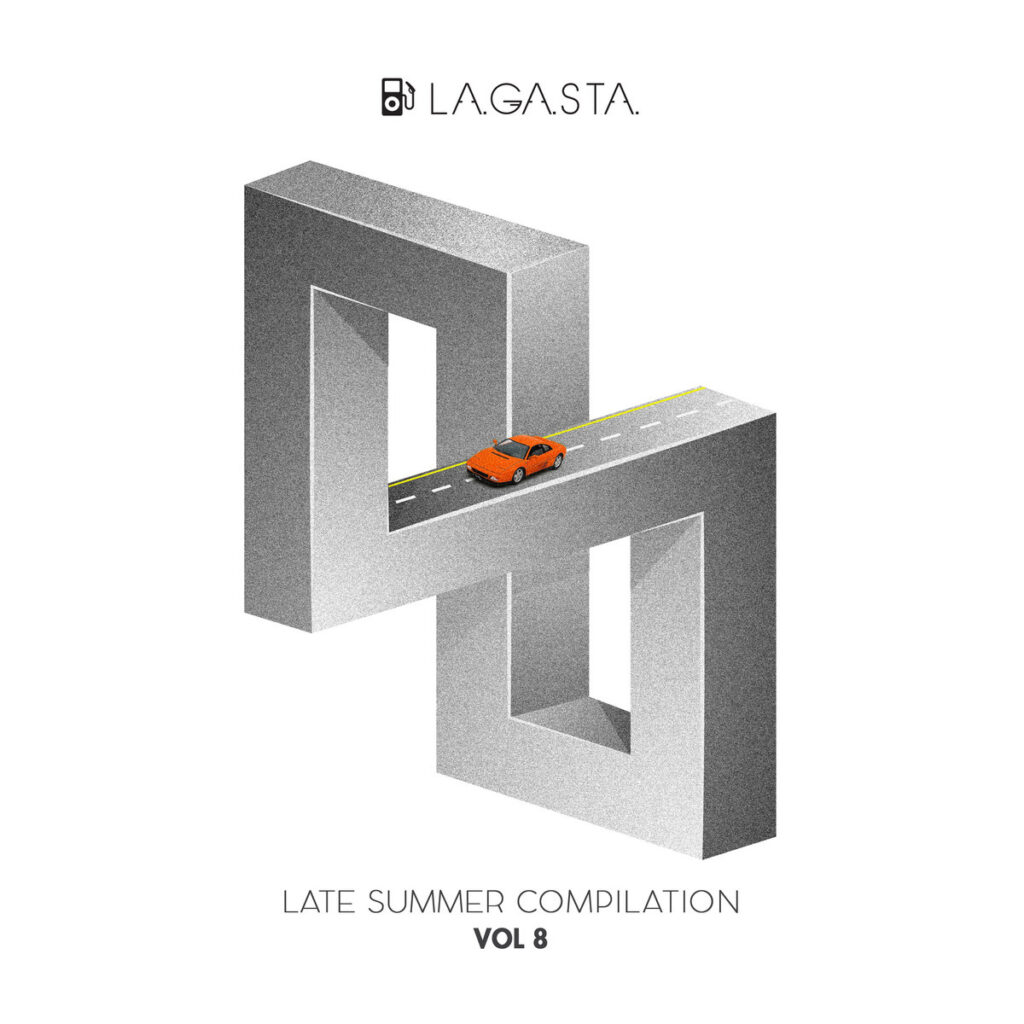 Artwork: Stefanos Michaelides
Download LAGASTA's Late Summer Compilation Vol. 8 HERE for the price of an e-mail.
The eighth installment is finally here and it features 13 tracks from some of our favorite artists and talented newcomers. Brimming with the warmth of those long summer days and sun-kissed vibes of our own road trips, the "Late Summer" compilation Vol. 8 takes you on a journey through the most carefree season of the year. While at the same time, we're trying to bring you a selection of different sounds and different flavors that will soundtrack your car rides and fuel you with a never-ending summer feeling wherever you are.
The new collection features lots of exclusive tracks, including Cooper Saver's brand-new remix for Perel, previously unreleased edits from Balako, Joutro Mundo, Jackie House, Harrison BDP's sublime new track "Standing In The Rain" and Earth Boys' remix for their own tune "Put Me On". It also includes much-loved gems available as a free download for the first time, featuring Man Power, Palmbomen II, Seb Wildblood, Keita Sano, Antenna, Carrot Green & Selvagem, and E Ruscha V.
Shout out to all the artists and labels for making it happen.
TRACKLIST
01. Perel – Pastarella Al Limoncello (Cooper Saver Remix)
What a better way to open La.Ga.Sta.'s compilation Vol. 8 than with an exclusive great remix of Berlin's Perel track "Pastarella Al Limoncello" from Los Angeles-based DJ/producer Cooper Saver. Once again, Cooper Saver delivers the goods, a finely craftyed remix that's perfect for your next car rides. You can download this remix for free, courtesy of DFA.
02. Joutro Mundo – Novela
Italo disco grooves from Rio de Janeiro with love! Brazilian DJ/producer and edit specialist Jonas Rocha, aka Joutro Mundo, a major force in the underground scene of Rio de Janeiro, delivers some serious heat on the dancefloor with this exclusive edit of the Italo disco classic "Fotonovela". And it's a great one.
03. Jackie House – Breaking Dawn Rays
A fixture on the San Francisco dance music scene for the past decade, Jackie House is the alter-ego of Jacob Sperber, one of the founding members of Honey Soundsystem. Jackie House was kind enough to contribute to our new compilation Vol. 8 his killer epic edit of Don Ray's 1978 classic track "Got To Have Loving" that clocks in at 10-minutes. It's great disco ride from start to finish! Absolute fire.
04. Keita Sano – A Place Called Sun Beach
Prolific Japanese producer Keita Sano takes us for a ride with his great track "A Place Called Sun Beach", a 10-minute dancefloor heater, taken from his recent "Kubo" EP. It's now yours for free, courtesy of NYC's Let's Play House.
05. Palmbomen II – Pure Tibet
LA-based Dutch artist Palmbomen II, otherwise known as Kai Hugo, has contributed to our compilation his sublime track "Pure Tibet", one of our favorite cuts off his "Memories Of Cindy" EP series, an intimate collection of eulogic, supernatural house music made for a muse and to bemuse those who make (first) contact, on Tim Sweeney's Beats in Space label.
6. Carrot Green & Selvagem – Bronski In Rio
Brazilian duo Selvagem have joined forces with his comrade Carrot Green, delivering this disco-house heater, which pays homage to one of the greatest hits ever made in the UK. The edit Bronski In Rio" is now available for free, courtesy of NYC's MM Discos.
07. Balako – Secret World
Blending a vast array of styles from house to salsa, carimbo and 70's disco and funk, Brazilian duo Balako (an 80's slang word meaning 'a good type of mess') have already wowed us with their superb tracks and EPs on Greco-Roman. For our compilation Vol. 8, Balako deliver an exclusive rework for one of our favorite tracks from Tears For Fears. What's not to love?
08. Timothy J Fairplay – Night Ferry (Antenna Remix)
Antenna, the Rotterdam-based house project of Sasha Renkas and Eline Makker, offer a deep retake of Timothy J Fairplay's track "Night Ferry", taken from his "Revenge Fantasy" EP on Emotional Response. It's a perfectly crafted remix of optimistic keys and mellow grooves.
09. Felipe Gordon – Acid Party At Teusaquillo (Seb Wildblood Remix)
London producer and Church label head Seb Wildblood continues to turn out quality tracks and this one's no exception. This time 'round, he works his magic on Felipe Gordon's track "Acid Party At Teusaquillo" and the result is somethig special. Great vibes all round! The remix is lifted from Felipe Gordon's "Teusaquillo" EP on Berlin's Toy Tonics.
10. Jac The Disco – Breathe (Man Power Remix)
With his Me Me Me label now making noise all over the scene and his rep as a DJ and producer who can command venues like Panorama Bar and Fabric firmly established, multi-talented Geoff Kirkwood, aka Man Power, is another producer you just can't pin down genre-wise. Here he's taking "Breathe" by Jay Rossi, aka East London DJ stalwart Jac The Disco for a tougher make-over, giving the whole track a more driving, darker feel. Taken from the "Inversions" EP on Roam Recordings.
11. Earth Boys – Put Me On (Earth Boys Remix)
Having already impressed with their quality releases on lables such as Vancouver's finest 1080p, 2MR, Lets Play House, Earth Boys, the NYC duo of Julian Duron and Michael Sherburn, have provided their own exclusive remix for "Put Me On", a finely crafted rework in their own signature style, just in time before their new LP drops on Public Release.
12. Harrison BDP – Standing In The Rain
Cardiff-based producer Harry Webber, better known as Harrison BDP, who has been making some serious waves right now, continues his fine run of form with his sublime new track called "Standing In The Rain", a nearly nine-minute-long deep house affair. It's yet another example of Harrison BDP doing what he does best.
13. E Ruscha V (Secret Circuit) – Who Are You
LA-based musician Eddie Ruscha, aka Secret Circuit, recently dropped his superb first album "Who Are You" on Tim Sweeney's label Beats In Space Records under his given name E Ruscha V. Our favorire cut off his abum is "Who Are You", a beaty of a tune, that has been on repeat on our car stereo all summer. Prepare yourself for a blissful ride.
Ride with us.