A Track A Day: Alex From Tokyo
Vangelis R
A Track A Day:

Alex From Tokyo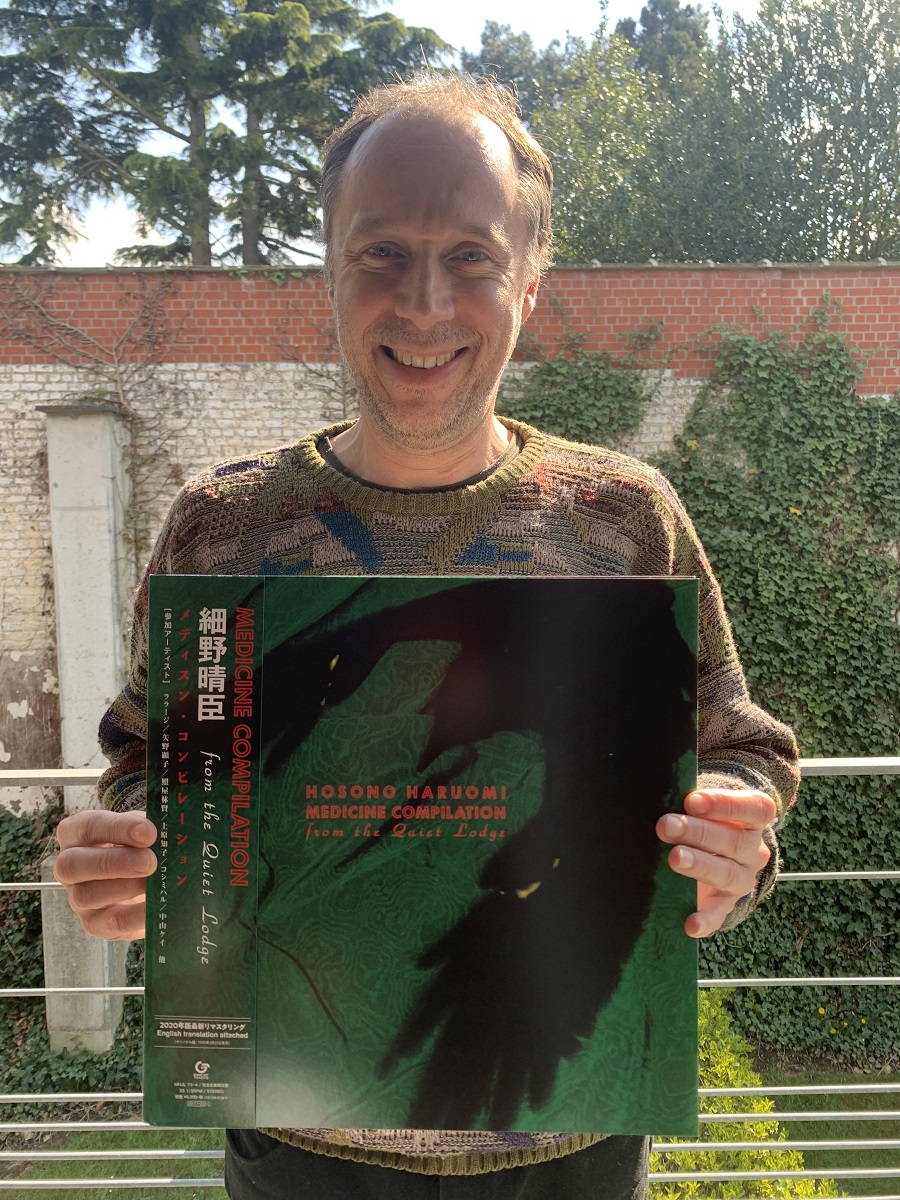 With the current circumstances and the turbulent times all over the globe, we asked our friends to choose a favourite track or an album for these weird days, and share it with us along with a photo. A track a day keeps the bad vibes away.
Today we welecome Paris-born, Tokyo-raised, Berlin-based DJ, music producer, sound designer and World Famous label owner Alex Prat aka Alex From Tokyo. In constant flow, Alex from Tokyo is an international man of musical wonderment, with a career that extends over three decades and continents. It simply is unthinkable to pin him down to a given space-time continuum.
Alex From Tokyo shares with us Haruomi Hosono's 1993 LP "Medicine Compilation From The Quiet Lodge" of spellbinding ambient cuts. It is one of the albums he played the most last year at home, the perfect "deep meditative" soundtrack during the lockdowns.
In his own words: Released originally in 1993 on CD in Japan (on my 20th birthday!), opening up with the beautiful atmospheric walearic (Wa for Japan + Balearic) piece "Laughter meditation", this album has always had a special place in my heart, taking me to a kind of spiritual journey deep inside, reminding me also about Japan I have been missing a lot!
This album is Hosono san's own prelude to the changes/signs that were occurring in the world as we entered the 21st century, it is his state of mind, ambient in the purest sense as he says. Hosono san collected here these signs as he calls them "medicines" putting them together as a compilation. Also after the crazy 80s, in contrast to his previous album "Omni Sight Seing" in 1989, Hosono san was looking for something deeper, and he wanted this time to have an album about tranquility. "Quiet Lodge" refers to a special tranquil space within our hearts where the waves are raging. This is how Hosono san describes the concept of the album.
Recorded at his studio RACOON in Yutenji in Tokyo (it is said that his studio set up room looked like a Japanese tea room), it is Hosono san's first solo album since the beginning of the 90's, exploring new territories and producing ambient-ish tracks with beats (instead of "songs"), incorporating Hosono san's world music approach that has been an important part of his solo career.
Feeling the spirit of the times, Hosono san kind of fused 90's house and techno (when ambient house surfaced in the early 90s he thought those people were thinking about the same as him) with his own eclectic orientation fusing exotica, funk, electronic, ambient collaborating over 2 years on and off in between other projects with the younger Japanese producer Kay Nakayama as his right hand featuring very special guests and friends like Yasuaki Shimizu, Laraaji, Yano Akiko, Koshi Miharu among others.
The recording of "Laughter meditation" with Laraaji started in April 91 when Laraaji was on tour in Japan, that was the start of the production of the album. 2 years in the making, it is not a strictly beatless ambient album, it is quite of a diverse "deep meditative ambience" album with different tempos and moods inviting listeners to another world, with a great variety of synthetic flavors with ethnic influences, from the great duet with Yano Akiko on the exotica ambient track "Honey Moon", the acid house track "Medicine Mix", the beatless acoustic guitar piece "Sand Storm", the traditional okinawa folk music sampled "Mabui Dance" (mabui means soul in Okinawan dialect), to the funky New Orleans feel R&B prayer song "Aiwoiwaiaou" (that Dr.John will cover later) closing in perfection with the short sublime "Ambient Meditations" outro with Laraaji.
It turned out, around the 2nd peak of the pandemic last November, the album was re-issued in Japan, re-mastered as a beautiful double-vinyl and re-packaged, I had it playing all the time, it resonated exactly with the feeling of the times once again, it saved me, merci Hosono san!"
The latest release on Alex From Tokyo's own label World Famous is the digital version of Tokyo Black Star's "Fantasy Live 1999", a very special "voyage sonore" in their true retro-futuristic style. It comes five years after its vinyl release) and it's now available here.