LAGASTA: "With Love" Compilation
LAGASTA TEAM
LAGASTA:
"With Love" 
LAGASTA supports and celebrates PRIDE with a dance fundraising compilation.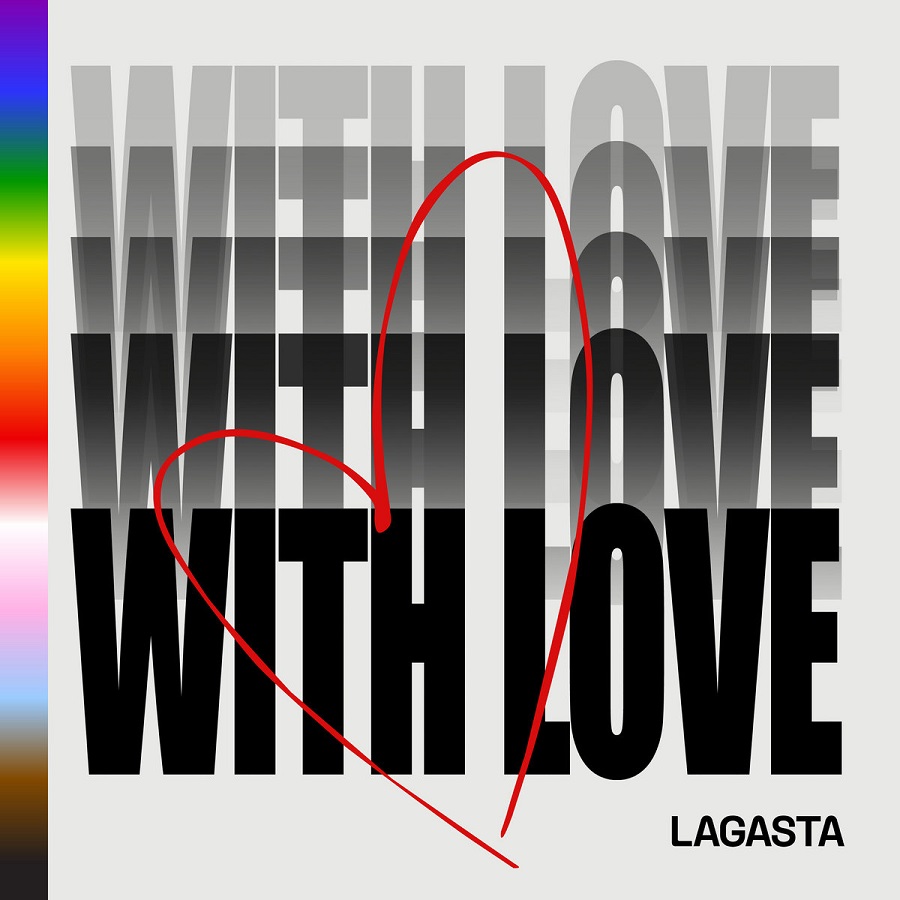 Artwork: Love Lines
LAGASTA is celebrating PRIDE this year and supporting the LGBTQ community with a dance packed fundraising compilation entitled "LAGASTA…With Love" The compilation is now available via Bandcamp. Happy Pride!
In a time where there is so much struggle in the world and so few disco balls we hope this release shines love and light back into the lives of anyone needing it. We welcome you to enjoy this delicious blend of dance music as we support Athens LGBTQ Youth Community and Emantes International Lgbtqia & Solidarity.
With 17 sizzling tracks to celebrate summer, this diverse soundtrack of radiant vibrations is here to kick off the season with a bang. The release features exclusive tracks from artists such as Zillas on acid, Baronhawk Poitier, Tony Y Not, Boys' Shorts, Mala Ika, Rotciv, Joyce Muniz, Hard Ton, Perdu, Alinka, Das Komplex, and Justin Cudmore.
Big love to all the artists and labels that helped bring this collection together. It fills our hearts to support those in need. And we hope you feel that same love as you turn up the volume and get ready for the heat! Special thanks to Sam at the WALL Studio for supporting the cause by providing his ever excellent mastering service.
Pick up your copy here.
TRACKLIST:
01. Joyce Muniz – Secret Obsession
Coming from a background where she used to dominate the vocal mic, Joyce Muniz puts a scintillatingly atmospheric vocal track down over the top of punchy drums and driving rhythms which galvanize this track's energy. This is with a doubt a party starter for the summer.
02. Theo Kottis – NYC
He knows how to start and party and we love it when he does! Theo Kottis drops a superb house track layered with nostalgic spoken throwbacks over the mix. It's a feel good track that will have the dancefloor shaking.
03. Mala Ika – Ausdauer
Mala Ika's passion for electronic music can be heard on this club-ready rock solid offering of powerful drums & driving synths melodies which combine into a relentless energy that will have you playing this on loop all summer.
04. Tony Y Not – Fall Night Long
Tony Y Not hits the mark once again with a song that should be played as loud as possible as often as possible. Its addictive pulsating electro base is layered with blissful embellishments and cracking backbeats that will make you want to dance 'Fall Night Long'.
05. Boys' Shorts – Strobe
Prolific dance DJ duo Boys' Shorts deliver a track rich in hooks and beats that will make you want to shake your onion all night. The track builds and breathes as it reveals its dynamic layers and sparkling energy.
06. Alinka – New Moon
Born in Ukraine, baptised with house music living in Chicago and now Berlin based, Alinka has a holistic understanding of the electronic music world. She loves to keep dance music weird and her latest uptempo track spins house vibes to a relentless offbeat bassline as delicate vocals challenge the listener to dance forever.
07. Perdu – Sunlight In 2921
Perdu is a rising star and we love basking in the starlight of his music. This smooth energetic track layered with lush sounds, tight drums and funky bass takes us a journey all the way to the party where the music never stops and sun always shines.
08. Zillas On Acid – Bruce Is Loose
A lively speaker shaking track from Zillas On Acid takes you under its spell with hypnotic melodies, driving basslines and dynamic sections that never end on this journey through bliss soundscapes.
09. Das Komplex – Lagun
Das Komplex creates an atmosphere full of light and shade with this cowbell heavy number. Featuring thick layers of instrumentation, a deep pocket feel and topped with a sprinkle of dream-like saxophone. Shut your eyes and get lost on this journey.
10. Hard Ton – Every Single Day
Italian duo Hard Ton show us their passion for vintage sounds as they show off an array of sublimely selected and constructed instruments. Mixed up with soulful vocals and a driving bassline, this track is going to have anyone who's anyone heading straight for the dancefloor.
11. Eden Burns – Tarot Loop
Eden Burns creates an exotic experience that features congas and tribal drums floating through the air, arpeggios falling from the sky and kick and hi-hat that carry you to the far reaches of the undiscovered.
12. Photonz – No Escape
Portuguese DJ and producer Photonz's track 'No Escape' sets up a dreamy atmospheric intro with beautiful notes that spin around the soundscapes. What comes next is a punchy electro wave of syncopated drum stabs and instrumentation in a high energy construction that is undeniably addictive.
13. In Flagranti – Elevated Temperature
In Flagranti's endless creativity is on full show as they cut and splice sounds and samples from everywhere and anywhere to create a colourful collage that will perfectly compliment any summer day.
14. ROTCIV – Terminator
When he is not playing Cocktail D'amore, Panorama Bar or Horse Meat Disco, Berlin based ROTCIV is making magic in the studio. But no matter what he is doing, we love every moment of it and the same goes for his track 'Terminator' which blends together a mix of different elements to create a unique track full of claps, snares, synth and good vibes.
15. DC Salas – Hiss & Miss
DC Salas lays down a vibrant synth driven number with big kicks and cracking snares. Accompanied by creative sampling and dancy melodies it fits right in on this release full of high quality bangers.
16. Baronhawk Poitier – Tenderhawks Callin Two Say
Washington based DJ, producer and freestyle dancer Baronhawk Poitier injects a kick heavy track that would rock any dancefloor. Elegantly layered vocals float over the top adding balance as a diverse array of percussion adds vitality and groove to this glossy piece of goodness.
17. Justin Cudmore – Pride
Brooklyn-based producer and DJ Justin Cudmore explores the space in between the music with sonic soundscapes and hypnotic hooks that keep you mesmerized as wave after wave of frequencies capture your ear.