LAGASTA Late Summer Compilation Vol. 6
Gasboy
LAGASTA
Late Summer Compilation Vol. 6
The sixth installment is filled with the warmth of those long summer days and sun-kissed vibes of our own road trips.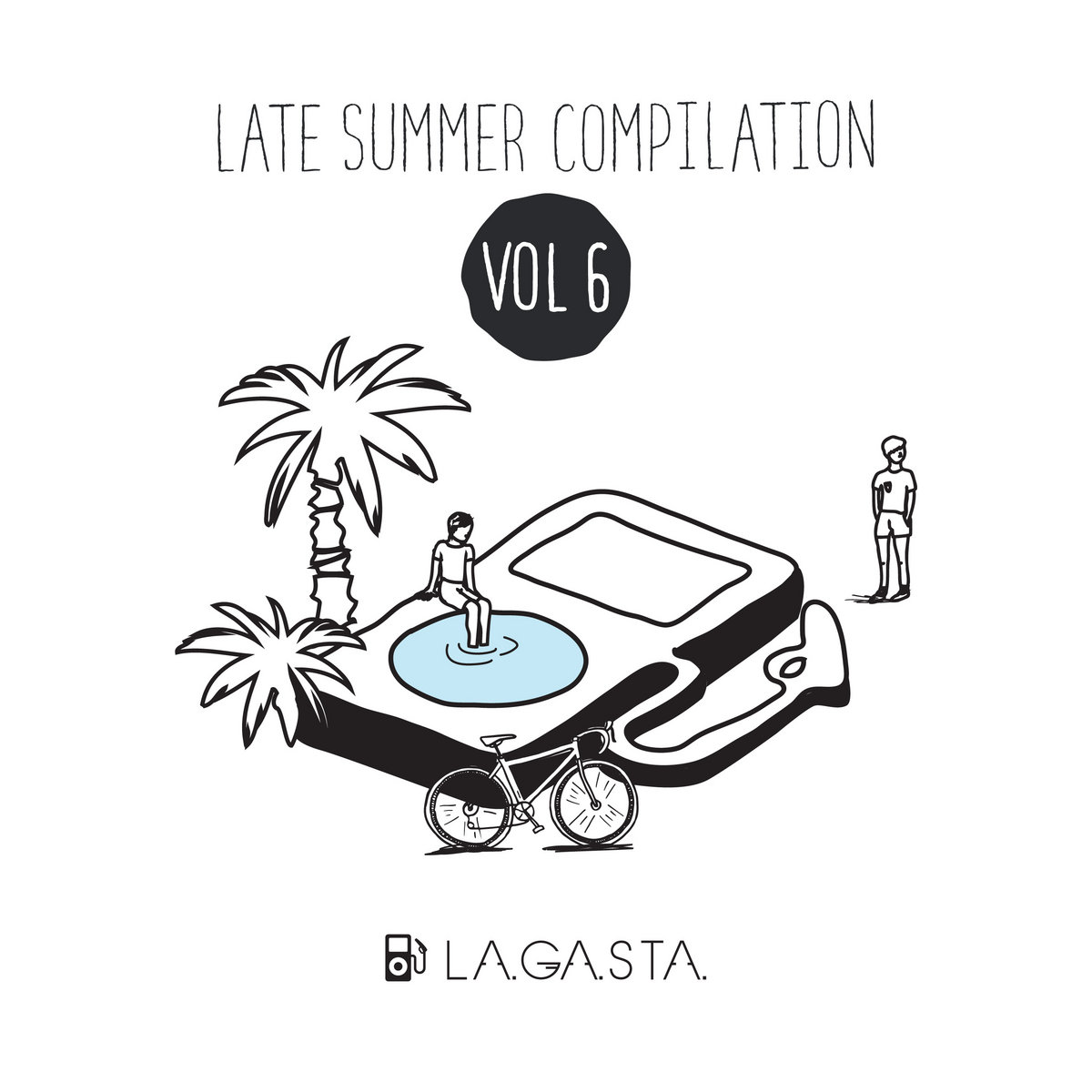 Artwork: Love Lines
Download LAGASTA's Late Summer Compilation Vol. 6 HERE for the price of an e-mail.
It's always summer somewhere. We're more than excited to bring you the sixth installment of our ongoing "Late Summer" compilation series filled with the warmth of those long summer days and sun-kissed vibes of our own road trips. The "Late Summer" compilation Vol.6 features 15 tracks from some of our favorite artists and co-drivers, a selection of different sounds and different flavors that will soundtrack your blissful rides and fuel you with a never-ending summer feeling wherever you are. As always, it's yours for FREE. Our new compilation comes also with something special from us. A glimpse of what's to come from our new dance project LAGASTA Drivers with our "fully drivable" track "Roberto".
LAGASTA's "Late Summer" compilation Vol.6 includes lots of exclusive tracks, including previously unreleased tunes, as well as much-loved gems available as a free download for the first time. It's going be a ride to remember, and one we hope you'll enjoy as much as we do.
Shout out to all the artists and labels for making it happen.
TRACKLIST
01. Chesus – You're So Special (Jacques Renault Edit)
NYC producer/DJ and Let's Play House's very own Jacques Renault, one of the most consistent edit contributors out there, goes all disco with his unreleased killer rework of Chesus' much-played tune "Special". We're delighted to have it as an exclusive part of this year's "Late Summer" compilation, courtesy of Sweden's Local Talk.
02. Ponzu Island – Super Koto (Andras Fox Extended Mix)
Melbourne house producer Andras Fox can do no wrong in anything he does. On his extended rework of "Super Koto" by fellow Aussie mysterious project Ponzu Island, Andras Fox transforms the original cut into a glorious sun-drenched beauty. Taken from Ponzu Island's debut EP on Barcelona's label Apersonal Music.
03. Gentle Hands – Stranger Changes
We're super stoked to have this edit as an exclusive part of our compilation. Stellar Well's Jake Goldsmith delivers a smooth-as-silk disco rework of "Stranger Changes" under his Gentle Hands alias. It was recently played by Dirty Dave on Beats In Space and now it's yours for free. A sublime rework executed by the gentlest of hands.
04. Kauf – Through The Yard (Fort Romeau Instrumental Remix)
London-based house producer Mike Greene, aka Fort Romeau, has remixed LA's Kauf much-loved track "Through The Yard" into pure perfection. The instrumental version of his lush remix, released on Munich's Permanent Vacation, is something rather special. Dive in.
05. No Regular Play – Lake Gilmore (Juan MacLean Remix)
DFA mainstay Juan MacLean adds his signature touch, subtly but strongly to Brooklyn's duo No Regular Play latest single "Lake Gilmore", delivering an elegant dancefloor heater. The original track is taken from the pair's recent second "Can't You See" LP, the follow-up to their 2012 debut LP "Endangered Species", on Crew Love Records.
06. Medlar – Juno (feat. Ishmael)
London's Medlar synth-laden house tune "Juno" is one of our favorite tunes we've heard in a while. Featuring Bristol producer Ishmael on sax, the track is lifted from his debut EP of the same name for Madrid-based label Riverette.
07. Jonny Sender – Luck Sum Don (Special Edit)
If there was an edit that we've been playing on repeat mode on our car stereo for a while now, it would definitely be "Luck Sum Don". It's a deliciously sleazy rework of Donna Summer's classic "Lucky" from New York DJ and producer Jonny Sender, former bassist of Konk, which was released on In Flagranti's Codek Records. Here, we have a short version of the edit, specially made for our new compilation.
08. Prins Thomas – C (I:Cube Remix)
French producer I:Cube works his magic again and created this stunning remix of "C" by Norwegian disco maestro Prins Thomas. This seven-minute rework has been on repeat on our car stereo all summer. The track "C" appears on Prins Thomas' ambient fourth solo album "Principe Del Norte", released early this year on Smalltown Supersound.
09. Luxxury – What Do Ya Really Want? (Luxxury Dub)
Los Angeles-based producer and edit maestro Blake Robin, also known as Luxxury, keeps the disco vibes going with his delicious tune "What Do Ya Really Want?", a "slow-motion dip into an existential disco swimming pool." His contribution to our compilation, an exclusive dub version of the track, is perfect for either a weekend BBQ or a late-summer malaise.
10. LAGASTA Drivers – Roberto
Here comes "Roberto", the "fully drivable" first track from our new project LAGASTA Drivers. We have been holding on to this track for almost two years now, and we're very excited to finally share it with you. There's more tracks from LAGASTA Drivers on the way.
11. Jacques Renault – Redlight Rubber (Massimiliano Pagliara Remix)
What a tune! Italian-born, Berlin-based producer Massimiliano Pagliara takes us for ride with his epic, synth-laden house remix of Jacques Renault's "Redlight Rubber", a track taken from his 2015 debut LP "Zentrum". It doesn't get any better than this! The nine-minute remix appears on the "Off Zentrum" EP on one of our favorite labels, Let's Play House.
12. Wild & Free – River Of Nile (Cloud Mix)
This track is made exclusively for our compilation. Los Angeles-based duo Wild & Free, composed of Drew Kramer and George Cochrane, revisit their much-loved track "River Of Nile" and give us a new "Cloud" version full of dubby grooves. It has just the right amount of tropical percussions. Just perfect!
13. Guiddo feat. Georges Perin – One Last Bite (Nmls Remix)
We first heard this one back in November of last year, when Tim Sweeney played it in his Mixmag set. Now, we're finally got our hands on this stellar, slow-burning remix of Guiddo's track "One Last Bite" by Polish producer Nmls, as an exclusive part of our compilation Vol.6. Featuring the sultry vocals from Greek singer Georges Perin, "One Last Bite" is taken from Guiddo's excellent "Gin 'n' Tears" EP, released back in 2014 on Beats In Space Records.
14. Yumi Zouma – Short Truth (Southern Shores Remix)
Let's take a ride with this exclusive remix of New Zealand's Yumi Zouma soaring synth-pop track from label mates Southern Shores. Toronto's duo edit is an effortless collage of splashy breaks, Balearic breezes and cooing vocal samples. Utterly addicting stuff. It serves as an ode to these final, exuberant days of summer. You can now download this remix for free, courtesy of our beloved Cascine.
15. PillowTalk & Soul Clap – Love Train (feat. Greg Paulus & Crew Love)
San-Francisco house darlings PillowTalk and Boston's finest Soul Clap have teamed up for this piano-driven house groover "Love Train", featuring No Regular Play's Greg Paulus inimitable trumpet. This great tune is taken from the album "Crew Love: Based on A True Story", which includes tracks from all the Crew Love members. All aboard the Love Train!
Ride with us.