La.Ga.Sta. Late Summer Compilation Vol. 3
Gasboy
LAGASTA
Late Summer
Compilation Vol. 3
This year's 12-track compilation will transport
you to a blissful paradise.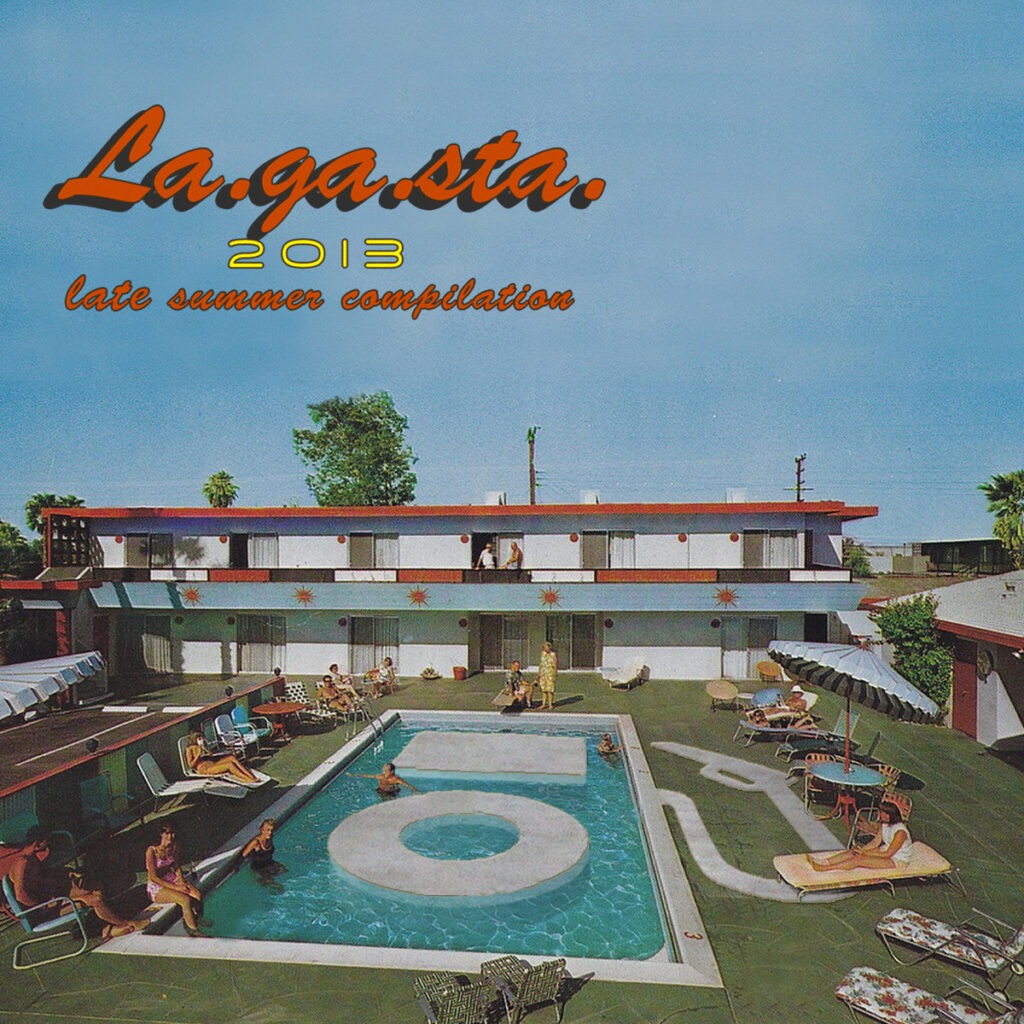 Download LAGASTA's "Late Summer" Compilation Vol. 3 here for the price of an email.
At long last, it's here! Today, we're beyond psyched to share with you the third installment of LAGASTA's "Late Summer" free compilation series. The new 12-track collection feels like an echo of an endless summer, bringing back memories of lazy, warm afternoons by the pool, long sunset drives along the coast and wild beach parties. Filled with tropical disco-flavored, sun-soaked tunes, and smooth and funky house gems, this year's "Late Summer" compilation will transport you to a blissful paradise.
As per usual, the new "Late Summer" compilation features exclusive free tracks from some of our favorite artists. An equal combination of familiar faces like Belgian maestro Aeroplane, Portuguese disco producer Moullinex, Mickey, Los Angeles-based duo Cosmic Kids, Nashville's Jensen Sportag, Mighty Mouse and Matt Van Schie's collaborative project Du Tonc and some of this year's beloved newcomers such as Clancy, Hemingway, Bronx, Kiwi, Indian Summer , and Small Pyramids.
We hope you like this compilation as much as we do. Big thanks to all the artists and labels that contributed to the making of this compilation. Stream the whole thing below, grab it, love it, play it, and share it.
TRACKLIST
01. Surahn – Wonderful (Aeroplane Remix)
We can't think of a better way to open our compilation than with the premiere of Aeroplane's brand new remix of Adelaide's producer/singer Surahn (former bassist of The Swiss) latest single "Wonderful". Once again, Vito de Luca works his magic and delivers a stellar, sun-kissed remix that you can't help but fall in love with it. You can now grab it, exclusively on La.Ga.Sta., courtesy of DFA Records.
02. Du Tonc – Surging Memories (Dub)
London-based producer Mighty Mouse and Matt Van Schie's (of Van She) new collaborative project Du Tonc is nothing but pure beauty. With their first single "Darkness" being one of our favorite tunes of the year so far, we're more than excited to include on our compilation a new and yet unreleased, dub version of their second single "Surging Memories". A solid tune that feels like a sunset drive down the Pacific Coast Highway.
03. Bronx – Coconuts
Mexican producer Francisco Dávalos, better known as Bronx, has been on our radar for a while now. His tropical-flavored, feel-good tune "Coconuts", full of playful piano melodies and congas, is taken from his vinyl-only "Tropical Love" EP, which was released earlier this year via Jacques Renault and Marcos Cabral's label, On the Prowl. This is your one-way ticket to your own fantasy island.
04. Lindstrøm – Vōs-Sākō-Rv (Hemingway Remix)
What a tune! Toronto-based producer James Harris, aka Hemingway, takes us for a late-summer ride with this remix of Lindstrøm's "Vōs-Sākō-Rv". A glorious remix with an infectious bassline and sunny melodies that has been on repeat all summer. There's no holding back.
05. Talking Heads – Houses In Motion (Cosmic Kids Edit)
Los Angeles-based Cosmic Kids, the disco/house duo of Ron Poznansky and Daniel Terndrup, are not only known for their original tracks, but also for their disco edits. For our compilation, they were kind enough to offer us a rework of Talking Heads' 1980 classic "Houses In Motion". A quality six-minute rework that will keep you dancing till the dawn.
06. Girls In Hawaii – Misses (Mickey Remix)
From Sébastien Tellier to Punks Jump Up, so far everything the Belgian-based producer Mickey touched has turned to gold. His remix of Girls In Hawaii's is not exception. Being on repeat the last few months, this brilliant remix leaves you with a bittersweet feeling just like summer coming to an end.
07. Jensen Sportag – Bellz
More goodness from Jensen Sportag, the Nashville duo of Austin Wilkinson and Elvis Craig. Their "comeback" single "Bellz", the first taste from their upcoming new album "Stealth Of Days" on Cascine, is a sublime jam, filled with smooth, late-night vibes.
08. Small Pyramids – Driftin'
The talented Los Angeles-based producer Zach Hunsaker, aka Small Pyramids, is ready to drop his superb debut album "Slow It Down" on September 30th via Glasgow Underground. We're delighted to share with you a taste of that record with an exclusive track, the smooth and slow burning "Driftin'". Sit back, relax and enjoy!
09. Indian Summer – No Use
We can't get enough of Melbourne's Indian Summer , the rising electronic duo of Gabe Gleeson and Chevy Long, fantastic debut single "No Use", which was released back in May. You can now grab this floor-friendly, funky tune, exclusively on our compilation, courtesy of Sweat It Out!.
10. Munk – Munkysound (Moullinex Remix)
What a pairing! Munk and Moullinex, two of our favorite producers, in a killer dancefloor-ready track. What more could we ask for! Feast your ears on this great remix of Munk's "Munkysound" by the always amazing Moullinex, who turns the original cut into an almost eight-minute euphoric, retro-flavored workout. Play it loud!
11. Clancy – All Just In My Mind
London-based producer Clancy is having quite a year! We're more than happy to have him on board with "All Just In My Mind", a great vocal-driven deep house tune, one of his finest tracks to date. Keep an eye out for his upcoming debut EP "What You Do", which drops on September 30th via SPIEL. Bring it on!
12. Is Tropical – Dancing Anymore (Kiwi Remix)
Here's something special to close our compilation. Fast-rising South London-based producer Alex Warren, aka Kiwi, has been making some serious waves lately with his releases on Deep Shit, Days Of Being Wild, and Needwant. With his wicked take on London's trio Is Tropical "Dancing Anymore", he takes things to another level. This remix was a bonus track on the Japanese edition of Is Tropical's recent album "I'm Leaving" on Kitsuné. Dive in!
Videos by Vagelis Related & Agrado