LAGASTA Late Summer Compilation Vol​.​10 (Part II)
Elice Mour
The second volume of the 10th installment of LAGASTA's ongoing "Late Summer" compilation series features 15 exclusive tracks, previously unreleased edits and much-loved tunes!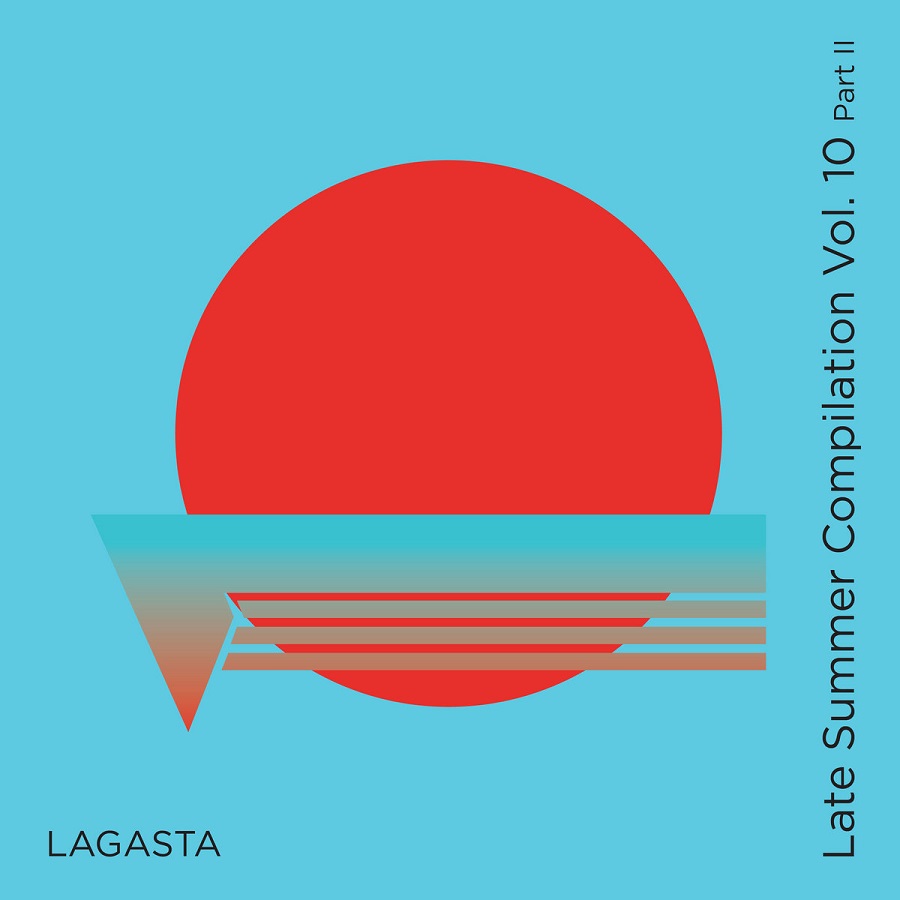 Artwork: Stefanos Michaelides
Download: LAGASTA's "Late Summer" Compilation Vol.10 [Part II] HERE for the price of an e-mail.
LAGASTA celebrates the 10th installment of its ongoing "Late Summer" compilation series in a very special way! This year the "Late Summer" compilation comes in two separate parts, both available for free download, as always, via LAGASTA's Bandcamp page. The second part has arrived and gives us yet another reason to pretend that summer never ends. The "Late Summer" compilation Vol. 10 (Part II) compilation features exclusive tracks, previously unreleased edits/reworks and much-loved tunes, available as a free download for the first time.
The 15-track collection includes tracks by the likes of Man Power, Lucas & Marijana Croon, Soul Clap, Teen Daze, Yuksek x Boys' Shorts, Iñigo Vontier, Jack Priest, Simple Symmetry x Autarkic, Αimes x Massimiliano Pagliara, Satin Jackets, Kito Jempere, Tendts, Franz Scala, A Vision Of Panorama, and John Noseda. Brimming with the warmth of those long summer days and sun-kissed vibes of our own road trips, the new compilation will take you on a journey through the most carefree season of the year.
Shout out to all the artists and labels for making it happen once again. The second part will be dropped soon, so keep your eyes peeled. So grab your keys, call up your favorite road trip buddies, roll down the windows and crank up the volume. It's time to hit the road!
TRACKLIST
01. Man Power – Tension [Exclusive]
We are really sure that you will feel this "Tension". Man Power delivers this track exclusively for LAGASTA and we ride to interstellar house music sounds, placing ourselves in the center of a dancefloor with our eyes closed, getting lost in the track's atmosphere. Man Power is unique and special, and so is his track. Just listen to the track and we're sure you'll feel its originality and time-travel vibe.
02. Lucas & Marijana Croon – Deluded Planet [Exclusive]
The amazing Lucas Croon, half of Bar and also known for his work with Düsseldorf projects like Stabil Elite and premium platform Themes For Great Cities, joins forces with his wife Marijana, and together they deliver an exclusive track for LAGASTA, and it's a great one! "Deluded Planet" is a dark-wave disco anthem with a vast variety of great analogue synth sounds. You'll listen to it again and again.
03. Grace Jones – Done It Again (Soul Clap Edit) [Soul Clap Records]
Grace Jones and Soul Clap in one sentence is big enough to gain someone's attention. When you listen to the edit of "Done It Again", it gets huge. This rework is sublime, firstly delivered back in 2013 via Gador Boots and its Gador edits, and coming back digitally and thankfully to our ears as part of the Soul Clap Edits From The Vaults (2010-2020) compilation, which will be out on 20th October. Blissful moments of psychedelia.
04. Yuksek ft. Breakbot & Irfane – The Only Reason (Boys' Shorts Remix) [Exclusive]
French electro master and Partyfine label founder Yuksek's superb recent "Nosso Ritmo" LP is still spinning on our car stereo. And when it comes to "The Only Reason" featuring the disco lord Breakbot, alongside his regular cohort Irfane, it was our beloved Boys' Shorts that delivered this amazing club-ready remix that we can't stop listening to! Exclusively for LAGASTA.
05. Teen Daze – Looking West [Exclusive]
You love him, we love him and no words are enough to describe how excited we are for this exclusive track on LAGASTA. Our favorite Teen Daze, the Vancouver-based electronic project revolving around Jamison Isaak, offers the instrumental track "Looking West", which is a dreamy sonic journey and one more ultimate late summer track. Teen Daze has lots of experience under his belt and you sense that from the first seconds of the track. It's a trip to the most beautiful places that are painted in your mind.
06. Tendts – Dust [Exclusive]
The mighty Tendts, based in Thessaloniki, Greece, make us move for one more time to their tribal beat, the congas, and the cymbals, and at the same time, they offer us an oneiric ride to late summer beaches. You'll sense the magical "Dust" exclusively on LAGASTA. Tendts are about to release their second LP later this October, so get ready for massive pleasure.
07. Iñigo Vontier – Lugar Querido [Exclusive]
From the moment of its release, Iñigo Vontier's superb debut album "El Hijo Del Maiz" ("The son of the corn") for Chloé's label Lumière Noire has become one of the most gripping albums of the moment. With "El Hijo Del Maiz", the super talented Mexican DJ, producer and co-founder of Calypso Records has created an album of demented grooves, psychedelic take-offs, and imaginary comic strips of mystical rituals that scrambles the listener's five senses. For our new compilation, Iñigo Vontier contributes a brand-new original track called "Lugar Quarido", a seven-plus minute tune full of lush modular synths and infectious percussions, delivers a sure-fire dancefloor weapon! Great vibes all round from one of the hottest names around at the moment.
08. Jack Priest – Boonoonoonoos (Re-Edit) [Crew Love]
It's a late summer compilation and this is the absolute late summer track. Jack Priest's re-edit of Boney M's "Boonounounous" is included in Brookly's Crew Love Exclusive Crew Content, "Jack Priest's Summer Edits", and from the first hearing the decision has been made; this track must be included in our compilation. Bristol-based DJ and producer does magic! Let's get bewitched.
09. Simple Symmetry – Nar (Autarkic Remix) [Low Budget Family]
This choice for our compilation was inevitable. They are super hot, their sound is exceptional, fresh, and ear-and-mind-opening. Moscow's Simple Symmetry and Tel Aviv's Autarkic gave birth to fire (NAR in Arabic). "NAR" is Simple Symmetry's EP released via the celebrated independent Moscow-based record label Low Budget Family, with the vigorous Autarkic offering a stunning trippy version of the original track with some unexpected harmonic shifts. A true dancefloor banger. Can't get enough of it.
10. Kito Jempere – Time Traveler (ft. Cedric Gasaida) [Cable Toy LAGASTA Bonus Re-cut]
Hailing from Saint Petersburg, our beloved Kirill Sergeev, aka Kito Jempere, has released his latest EP "Time Traveler" a few weeks ago, and can't wait for his album this October. What we have exclusively on LAGASTA, thanks to Kito and one of his best homies Cable Toy, is a bonus re-cut of the, as expected, awesome Cable Toy's remix on Kito's superb track "Time Traveler". It's the second album single featuring Cédric Gasaïda (the voice of Azari & III). As for Cable Toy, his every track is a hit and everything he touches is transforming into a dance floor bomb, and that's the case with the peak-time banger remix he did for Kito as well; not to mention he did an amazing record for Low Budget Family too. The remix is a killer. Enjoy your time travel ride.
11. Aimes – We Are Eternal (Massimiliano Pagliara Remix) [Wonder Stories]
Let's catch a thrill on Wonder Stories; the record label founded by Aimes, who's the production moniker and musical alter ego of Brooklyn-via-Alabama, Aman Ellis. Back in June his digital album A Star in the Sky was released, in which this fantastic remix of the track "We Are Eternal" by the one and only Massimiliano Pagliara was included. Get ready for an eternal trip.
12. Satin Jackets – Sassa And Back [Eskimo Recordings]
Tim Bernhardt, aka Satin Jackets, is one of the biggest names on the Nu-Disco scene. Returning to the studio in 2020 Bernhardt has been inspired to go back to his instrumental roots, the lessons he has learned from the past few years which were applied to the dreamy, laid back electronic music that he first made his name with and which can now be heard on 'Sassa and Back', a reflective slice of heavenly disco, underpinned by elegant strings that tease us throughout the track before stirring into something truly transcendent yet at the same time quietly understated.
13. David Mc Pherson – You Can't Stop (Franz Scala DJ Version)
The Italian born producer and Dj has been operating alongside Fabrizio Mammarella the Italian – centric, but Berlin-based, epic label Slow Motion Records, and its international sister – imprint Wrong Era. Franz Scala is the "encyclopedia" of Italo – disco; he's the heart and mind of Italian dance sound, and we are really excited about his upcoming debut LP in November via Slow Motion. For "Part II" of our compilation he offers an edit for David Mc Pherson's 1982 track "You Can't Stop", and we couldn't be more excited. It's really not a surprise to us all, because we weren't expecting less from the one and only Franz Scala. In case we haven't mentioned it yet, it's made exclusively for LAGASTA. Repeat button alert.
14. A Vision Of Panorama – Mediterranean Tribal [Cala Tarida Musica]
Saint Petersburg producer Mikhail Khvasko, aka A Vision Of Panorama, takes us on a Balearic journey through Mediterranean landscapes with his superbly crafted "Sentimental Coast" EP on Cala Tarida Musica that oozes sun-kissed vibes from start to finish. Consisting of four original tracks, the record continues to cultivate his unique glistening soundscape characterized by a lush jazz-tinged blissful Balearic ambience. Once again, A Vision Of Panorama delivers a collection of sun-drenched, unfolding narratives, full of gentle sounds and chords. Our pick from the record, the tune "Mediterranean Tribal" is a majestic Balearic ride from start to finish.
15. John Noseda – Our Time Will Come Again (Cinematic Sunset Trip) [Sapiens Recordings]
With a career that spans over two decades, veteran John Noseda is a well-known figure in DJ-booths and backstage areas across Belgium and beyond. Most recently he made his debut on Agoria's Sapiens label with his stunning single "Our Time Will Come Again", featuring vocals from Australian singer & songwriter Surahn. With its lush sunset chords and balearic keys, "Our Time Will Come Again" is a deeply immersive house affair. For LAGASTA's "Late Summer" compilation Vol. 10 (Part 2), John Noseda contributes an exclusive unreleased version of Our Time Will Come Again", an epic "Cinematic Sunset Trip". On his new version, Noseda slow things down, completely removes Surahn's vocals and stretches out the original to over ten minutes long. The result is a thing of absolute euphoric beauty that feels like a sunset drive down the Pacific Coast Highway. Glorious, cinematic and deeply emotive.
Ride with us.