LAGASTA Late Summer Compilation Vol. 7
Gasboy
LAGASTA
Late Summer Compilation Vol. 7
The seventh installment of LAGASTA's ongoing "Late Summer" compilation series will soundtrack your blissful rides.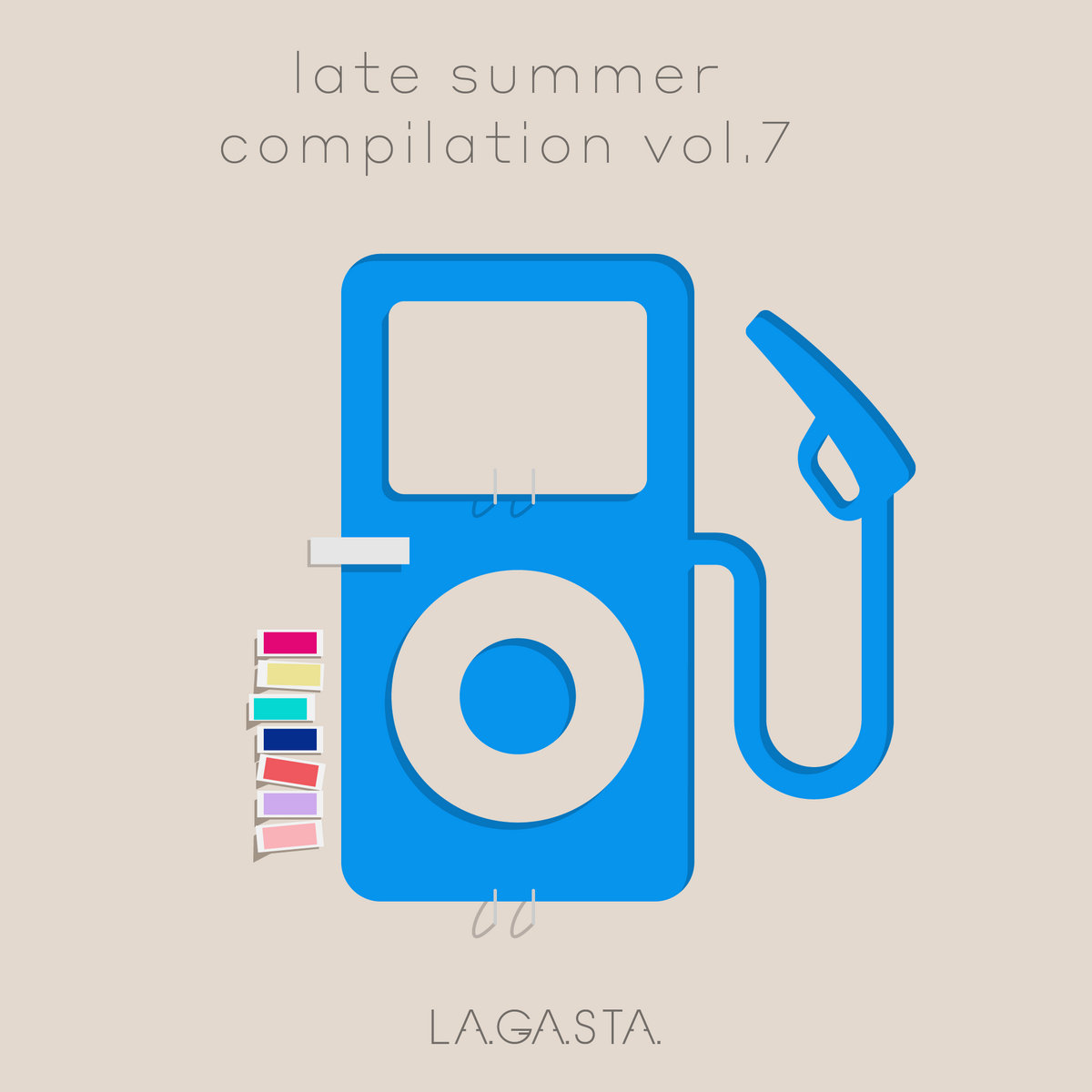 Artwork: Stefanos Michaelides
Download LAGASTA's Late Summer Compilation Vol. 7 HERE for the price of an e-mail.
Here we go again! We're psyched to bring you the seventh installment of our ongoing "Late Summer" compilation series. As always, the new "Late Summer" compilation is filled with the warmth of those long summer days and sun-kissed vibes of our own road trips.
The new collection features lots of exclusive tracks, including DJ Tennis' killer remix of The Juan MacLean's new single "The Brighter The Light" on DFA Records, Yuksek's previously unreleased edit of "Can't Stop", Rabo & Snob's great new track "Zeshto", Daniel T.'s blissful edit of Marine Girls' "A Different Light", Private Agenda's brilliant new track "Texture", and a Brazilian disco-flavored rework of "Bicho Ruim" by Fatnotronic and Joutro Mundo.
It also includes much-loved gems available as a free download for the first time, including Holy Ghost! x Cooper Saver, Banks x Poolside's Turbotito, Soul Clap x Eli Escobar, STATUE x Moscoman, Tenskane's new side project Gemini Rising, Formation x Mall Grab, and – last but certainly not least – Tiger & Woods. It's yours for FREE.
The 14-track compilation is a fine selection of different sounds and different flavors that will soundtrack your blissful rides and fuel you with a never-ending summer feeling wherever you are. Shout out to all the artists and labels for making it happen. It's going be a ride to remember, and one we hope you'll enjoy as much as we do. Ride with us.
TRACKLIST
01. The Salsoul Orchesta – Ooh I Love It (Love Break) (Dimitri From Paris Reprise Re-Touch)
What a better way to open La.Ga.Sta.'s compilation Vol. 7 than with a top-notch edit from our beloved French disco-house veteran Dimitri From Paris. Originally released in 2015 as a Japan-only 7inch exclusive on the iconic label Salsoul Records, his edit of The Salsoul Orchesta's classic "Ooh I Love It (Love Break)" is now available for digital free download for first time ever. A must have!
02. Yuksek – Can't Stop (Edit)
French electro maverick and Partyfine label founder Yuksek, purveyor of all things post-disco, house and pop, takes us straight to the dancefloor with his previously unreleased killer rework of Sylvester's classic "Can't Stop Dancing". Yuksek's rework "Can't Stop" in his own trademark style is absolute fire. It's now yours for absolutely free, exclusively on our compilation.
03. The Juan MacLean – The Brighter The Light (DJ Tennis Remix)
DFA stalwart The Juan MacLean has a new single on the way, called "The Brighter The Light", and it's a great one. Before it drops, we are honored to have as an exclusive free download our favorite remix of the track by Italian producer and Life And Death founder Manfredi Romano, aka DJ Tennis. In his capable hands, the original track is transformed into an eight-minute epic ride. Pure class. You can download this remix for free, courtesy of DFA.
04. Banks – Trainwreck (Turbotito Dub Reggae Remix)
Known for his work as one half of daytime disco duo Poolside, LA-based producer Filip Nikolic, aka Turbotito, keeps the summer vibes going on with his sun-drenched dub "Reggae" remix of "Trainwreck" by California singer Banks, a track taken from her recent second album "The Altar". This superb dub version is pure summer vibes. What's not to love?
05. Rabo & Snob – Zeshto
We've been following Tel Aviv-based veteran discoteers Rabo & Snob for a good while now, and it's safe to say that the prolific duo of Ronen Sabo and Eyal Rob have never cease to amaze us. Specially made for our new compilation, the duo's gorgeous new track "Zeshto" is yet another quality example of Rabo & Snob doing what they do best. This one will get some serious rotations on our car stereo. What a ride!
06. Soul Clap feat. Ebony Houston – Numb (Eli Escobar Dub)
New York house veteran Eli Escobar works his magic once again on "Numb", the Ebony Houston-featuring funky tune from Boston's finest Soul Clap. His dub version of "Numb", one of the standout tracks from the duo's recent second self-titled album, is pure dancefloor brilliance. That's the way we like it.
07. Holy Ghost! – Crime Cutz (Cooper Saver Remix)
Los Angeles-based DJ/producer Cooper Saver, known for throwing the Far Away parties, mixtape series, and radio show on Dublab, delivers a groovy and funky disco-influenced remix of "Crime Cutz" by Holy Ghost!, the Brooklyn-based synth-dance duo of Alex Frankel and Nick Millhiser. The original seven-minute funky disco tune is lifted from the duo's superb EP of the same name, released last year via DFA. The remix, which was previously used as a promo-only remix online, is finally available for you to keep.
08. STATUE – Monument (Moscoman Remix)
Tel Aviv's enfant terrible Moscoman turns his hand to "Monument", a great tune from Melbourne's live percussion-based dance project STATUE, the brainchild of drummer Tom Gould. The result is a percussive dancefloor odyssey. Taken from Statue's recent four-track EP on Cut Copy's Cutters Records.
09. Formation – Pleasure (Mall Grab Remix)
Here's something special from Mall Grab. The Australian producer Jordon Alexander adds an extra dose of lush vibes in his sublime take on "Pleasure" by rising London quintet Formation. You can grab a copy of his remix of "Pleasure", courtesy of Meno Records/Warner Bros.
10. Gemini Rising – Sunrise Boulevard
Let's take a ride with "Sunrise Boulevard", a brilliant track from Gemini Rising, a new side-project of German producer Tensnake with frequent vocal collaborator Fiora and producer Lester Mendez. Taken from their recent self-titled debut EP, a four-tracker of '80s synth pop goodness. Just perfect for driving down the Pacific Coast Highway with the windows down.
11. Private Agenda – Texture
Our beloved Berlin disco/balearic outfit Private Agenda was kind enough to contribute to our compilation a brand-new track, entitled "Texture", and it's nothing short of pure brilliance. This delicious disco-infused pop tune is Private Agenda at their best! You can download this track, exclusively on our compilation.
12. Fatnotronic & Joutro Mundo – Bicho Ruim (Rework)
Tropical disco grooves from Brazil with love. Fatnotronic and Jonas Rocha, aka Joutro Mundo, two of Brazil's major disco forces, have teamed up once again to deliver a previously unreleased rework of "Bicho Ruim", a Brazilian disco-flavored tune that's guaranteed to light up the dancefloor. Another great exclusive track on our new compilation.
13. Kraak & Smaak feat. Ivar – Way Back Home (Tiger & Woods Remix)
A classy remix from Tiger & Woods. The Italian disco maestros have worked their magic on Kraak & Smaak's track "Way Back Home", featuring yearning soul vocals from the trio's live band singer Ivar. The remix is lifted from Kraak & Smaak's "Way Back Home" EP on Brooklyn's label Razor-N-Tape.
14. Marine Girls – A Different Light (Daniel T. Edit)
Los Angeles-based producer/Dj and all round cool guy Daniel T. strikes gold with his hazy, blissful rework of Marine Girls' "A Different Light", specially made for our compilation. On his perfectly crafted rework, Daniel T. creates a nostalgic mood for all those special moments of a summer gone by.
Ride with us.