LAGASTA presents: Zombies In Miami at Dalston Superstore
LAGASTA TEAM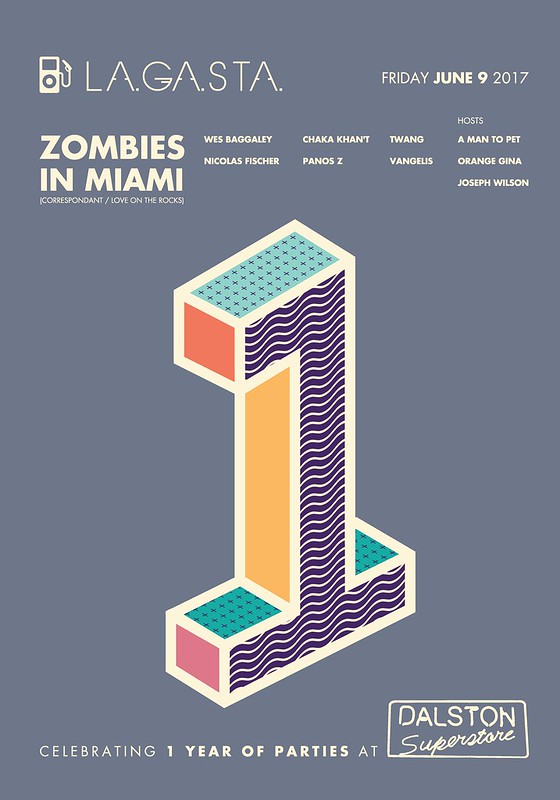 Tonight is the night! We're celebrating one year of LAGASTA events at our favorite hangout Dalston Superstore, and we couldn't be more excited!
Having welcomed the likes of Hot Chip's Alexis Taylor, Jacques Renault, Cut Copy's Dan Whitford, aka Bobby Boomerang, Knightlife, Lauer, Factory Floor's Gabe Gurnsey, Ray Mang, Daniel T., Private Agenda and TMS, aka This Soft Machine, over the past year, we're now thrilled to invite Mexico's finest Zombies In Miami for a LIVE set!
They will be joined by a veritable who's who of Superstore faves, including the one and only A Man To Pet, Nic Fischer, Wes Baggaley, Chaka Khan't, Panos Z, Twang and our very own Vangelis. Come celebrate with us!
Hailing from Mexico, Zombies In Miami, a prolific duo comprising of Jenice and her partner in crime Canibal, have caught the ears of the electro disco faithful with quality releases for labels such as Correspondant, Love On The Rocks, Eskimo Recordings, Hippie Dance and Permanent Vacation.
Their music is a techno hybrid with rock influences, making themselves sound deep, dark but also very dancefloor. The live act is full of energy traveling direct from the synths, drumpad, vocals and any kind of effects making the crowd experience something different, original and powerful.
Get in the mood for our first birthday bash with "Hipodromo", one of our favorite tunes from the amazing Zombies In Miami. Ride with us.
Catch Zombies In Miami at LAGASTA's first birthday tonight Friday 9 June from 9pm-3am at Dalston Superstore. £5 before 11 / £7 after.