La.Ga.Sta. presents: Gabe Gurnsey LIVE [Factory Floor/DFA]
Gasboy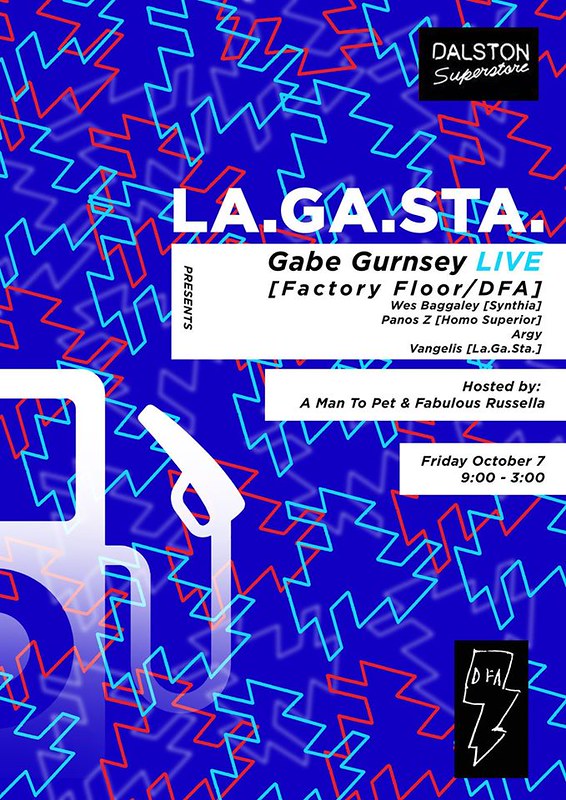 La.Ga.Sta. is driving once again to London's Dalston Superstore for something rather special. We're beyond psyched to welcome Factory Floor's founder Gabe Gurnsey as a headliner for our new event. Prepare yourself for a dynamic solo live set from one of our favorite co-drivers. Don't miss this one. Gonna be a great event.
Factory Floor, now a duo consisting of Gabe Gurnsey and Nik Void, recently dropped their great second album "25 25" for DFA Records, the follow-up to their acclaimed 2013 self-titled debut. With their music stripped to a mesmerising dance of percussion, fragmented voice and melody, it captures the next vital stage in the evolution of one of the UK's most restless and exploratory groups.
Before embarking on Factory Floor's sophomore effort, London-based producer Gabe Gurnsey began experimenting with his own material and was introduced to Richard Fearless (Death in Vegas) and his dark and distinctive label Drone Records. His debut solo release, a two-tracker called "Falling Phase", was released last year release on Drone with more to follow. On the back of the single Gabe has developed a solo live show that he is touring worldwide.
Get in the mood and grab a free download of Gabe Gurnsey superb remix of Shura's "White Light" here.
La.Ga.Sta. presents: Gabe Gurnsey LIVE [Factory Floor/DFA]
Friday 7 October 2016 @ Dalston Superstore 21:00 – 03:00 £7 on the door all night.
Head over to our Facebook event page for more info.