LAGASTA Late Summer Compilation Vol. 4
Gasboy
LAGASTA


Late Summer Compilation Vol. 4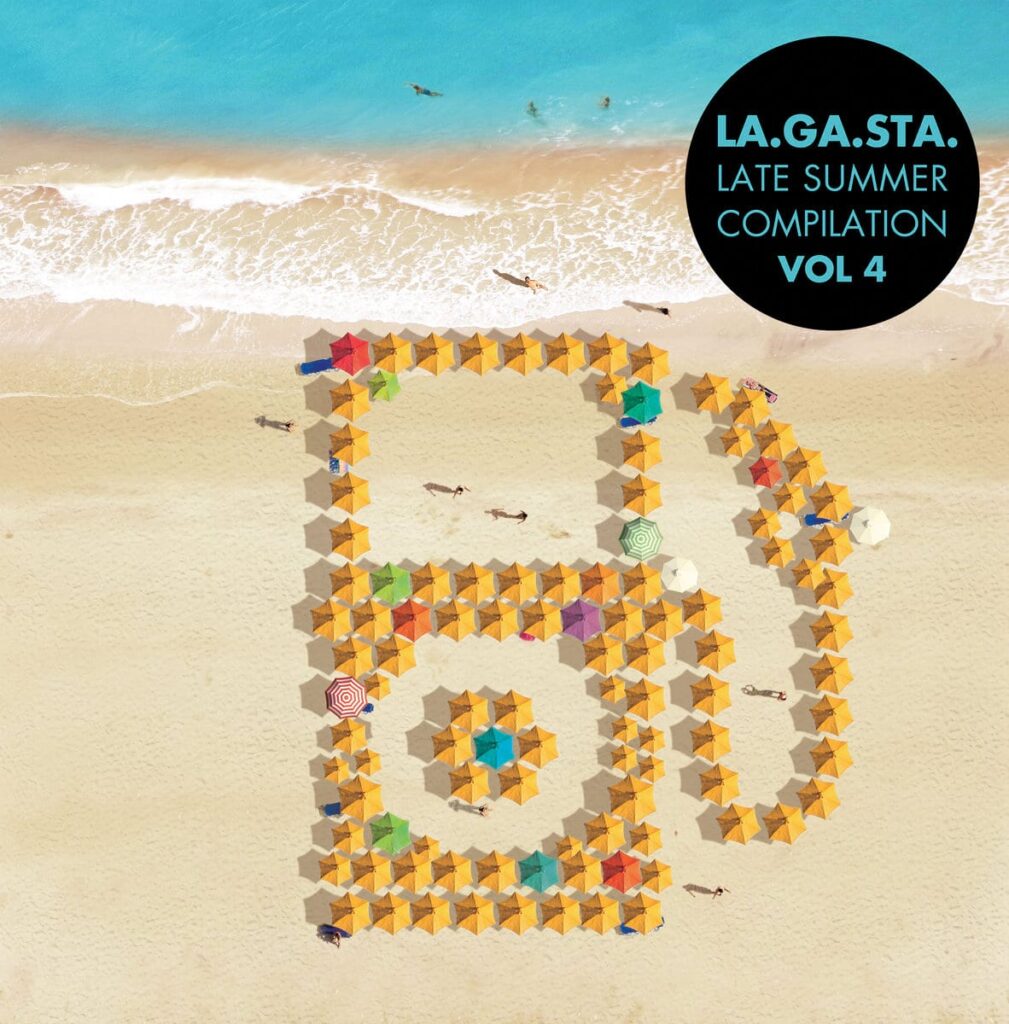 Artwork: Love Lines
Download LAGASTA's Late Summer Compilation Vol. 4 HERE for the price of an email.
YES, it's finally here. Today, we're so excited to bring you the fourth installment of LAGASTA's "Late Summer" compilation series, which is now available for free download. The new compilation Vol. 4 collects 15 tracks from some of our favorite artists that will not only transport you to your own dream beach, but will extend this summer to eternity.
Everything we love about summer is here: delicious tropical-flavored tracks, road trips under the sun, silky smooth house tunes, cool drinks by the pool, gentle sea breezes caressing our faces, and dancing on the sand 'til dawn. You should know by now that summer on LAGASTA never ends.
This year's "Late Summer" compilation features exclusive unreleased tracks, along with much-loved tunes available as a free download for the first time. We hope you like it as much as we do. Stream the whole thing below, grab it, love it, play it, and share it. Vrooom!
Shout out to all the artists and labels that contributed to the making of this compilation.
TRACKLIST
01. Nile Delta – Aztec (Pional Remix)
Lots of people have been asking us about this remix, so we're psyched to open our new compilation with this sublime take on Melbourne's producer Nile Delta great tune "Aztec" by Madrid-based producer and frequent John Talabot collaborator Pional. Previously only available on vinyl, this remix is now available for free download, courtesy of Cut Copy's own Cutters Records imprint. Feel the heat under the sun!
02. Slow Hands – The Fiasco
NYC-based producer and member of Crew Love family Ryan Cavanagh, aka Slow Hands, was kind enough to contribute to our compilation a brand-new track called "The Fiasco". With its sun-kissed vibes and slinky grooves, this tune screams summer. Slow Hands, who last graced us with his solid "Everything (We Are)" EP, can do no wrong. "The Fiasco" is now available exclusively on La.Ga.Sta.'s Compilation Vol. 4.
03. Daniel.T. – Wingin' It
Los Angeles-based DJ and producer Daniel.T., Daniel Terndrup of Cosmic Kids fame, always delivers the goods, and this brand-new track called "Wingin' It" is no exception. We first heard it on his excellent "Resonant Places" mixtape, and now this summer-soaked jam is available for free download, exclusively on La.Ga.Sta.'s Late Summer Compilation Vol. 4. Pure class!
04. Atsushi Yano – Solid Gold
What a ride! Japanese producer Atsushi Yano keeps the good vibes going with "Solid Gold", a groove-filled tune built around sun-drenched, Afro-funk-inspired rhythms that clocks in at eight minutes, but we can't get enough of it. "Solid Gold" is taken from his "Chewy Tunes" 12″ on LPH WHITE, the sister label of the ever-excellent Brooklyn-based Let's Play House, run by Jacques Renault and Nik Mercer. Play it loud.
05. Poolside & Fatnotronic – Onda
Our favorite Los Angeles-based "daytime disco" duo Poolside, aka Filip Nikolic and Jeffrey Paradise, have teamed up with Fatnotronic, the São Paulo duo of Bonde Do Rolê's DJ Gorky and Phillip A. (of Killer On The Dancefloor) to deliver this superb acid-tinged edit of "Onda" from Brazilian soul legend Cassiano. This edit will appear on "Brazilian Edits Vol.1", the first installment of a new series of reworkings of Brazilian funk and disco tunes, coming out soon via Chit Chat Records. In the meantime, grab a copy of "Onda" for free, exclusively on La.Ga.Sta.
06. Sinkane – How We Be (Lexx Remix)
Sudanese-born, New York-based singer and multi-instrumentalist Ahmed Gallab, aka Sinkane, just dropped his excellent second LP "Mean Love" on City Slang/DFA. Here, we have for you a superb remix of his funky, soul-drenched track "How We Be" by Swiss DJ/producer Lexx. Expect nothing, but 100% dubby goodness. You can now download this remix, courtesy of all-time favorite DFA Records.
07. Larry Gus – Human Migration
Greek-born, Milan-based singer/producer Panagiotis Melidis, aka Larry Gus (Greek for "larynx"), who wowed us with last year's debut LP "Years Not Living" for DFA, kindly offered us this unreleased track called "Human Migration", another fine example of his talent. It's precious. You can always count on quality from Larry Gus.
08. Maricopa – Everyday Mysticism
Belfast-based producer Michael Dillon has made quite a name for himself as Maricopa with a handful of quality releases and a series of EPs of pure downtempo house, perfectly sun-soaked vibes and subtly melodic soundscapes. His contribution to our compilation, an exclusive new track called "Everyday Mysticism", is yet another gorgeous slice of downtempo heaven. Dive in.
09. André Laos – Detour (Session Victim Remix)
Session Victim, one of Germany's finest house music acts, takes us for a slow ride with this brilliant remix of "Detour" by Gothenburg-based newcomer André Laos. Filled with smooth vibes and warm grooves, this remix is taken from André Laos' recent debut EP "Roundabout". You can download it for free, courtesy of Let's Play House. Great vibes all around!
10. Psychemagik – Balearic Girl
It's time for Psychemagik. The UK cosmic-disco of Danny McLewin and Tom Coveney delivers this superb edit "Balearic Girl", taken from a rare Swedish hairspray advert. This edit with plenty of infectious vocal hooks and dreamy beach vibes is just prefect for your "Endless Summer" playlist. The edit of "Balearic Girl" appears on Psychemagik's final installment of the Discotheque Wreckers series.
11. Hidden Fees – So What
Brooklyn's Hidden Fees, the duo of Ivan Berko and Thomas Gluibizzi, recent single "So What", featuring vocals from Ghost Exits' Christopher Exits, is one of our favorite tracks of the year so far. We're delighted to have it as part of this year's Late Summer Compilation, courtesy of Tim Sweeney's always on point Beats In Space Records. A solid jam with a timeless feel.
12. Midnight Magic – Psycho For Your Love (Midnight Magic's 2014 Rework)
Brooklyn-based cosmic disco outfit Midnight Magic never failed to amaze us. For our new compilation, they reworked their track "Psycho For Your Love", and turn it into a sleazy disco affair that's quite hard to resist. You can grab a free download of Midnight Magic's 2014 rework of "Psycho For Your Love", exclusively on La.Ga.Sta.
13. Woolfy Vs Projections – Ask (The Smiths Cover)
California-based musicians Simon James and Dan Hastie, aka Woolfy Vs Projections, bring us a pleasant surprise, a perfectly crafted sunny cover of The Smiths' 1986 classic "Ask" with a Balearic feel. We have already road tested this cover, and it feels so good while driving. Another exclusive track on our compilation. Can't wait to hear the duo's new album on Permanent Vacation.
14. COMA – Les Dilettantes (Roosevelt Mix)
This one has been on repeat on our car stereo for the past few months. Cologne's electronic duo COMA, aka Marius Bubat and Georg Conrad, "Les Dilettantes", taken from their superb debut LP "In Technicolor" on Kompakt, gets a disco-infused rework by fellow German producer/singer and album collaborator Marius Lauber, aka Roosevelt. Once again, Roosevelt works his magic on "Les Dilettantes", stretching it out into a gorgeous nearly-eight-minute dancefloor heater. Loved up!
15. Miami Horror – Wild Motion (Pete Herbert Remix)
We couldn't think of a better way to close our new "Late Summer" compilation Vol 4 than with this classy remix of "Wild Motion", the recent single from Melbourne-via-LA electro-pop four-piece Miami Horror, by the mighty London-based Pete Herbert. What's not to love?