LAGASTA Late Summer Compilation Vol. 5
Gasboy
LAGASTA
Late Summer
Compilation
Vol. 5
The fifth installment of LAGASTA's ongoing "Late Summer"
compilation series is now available for free download.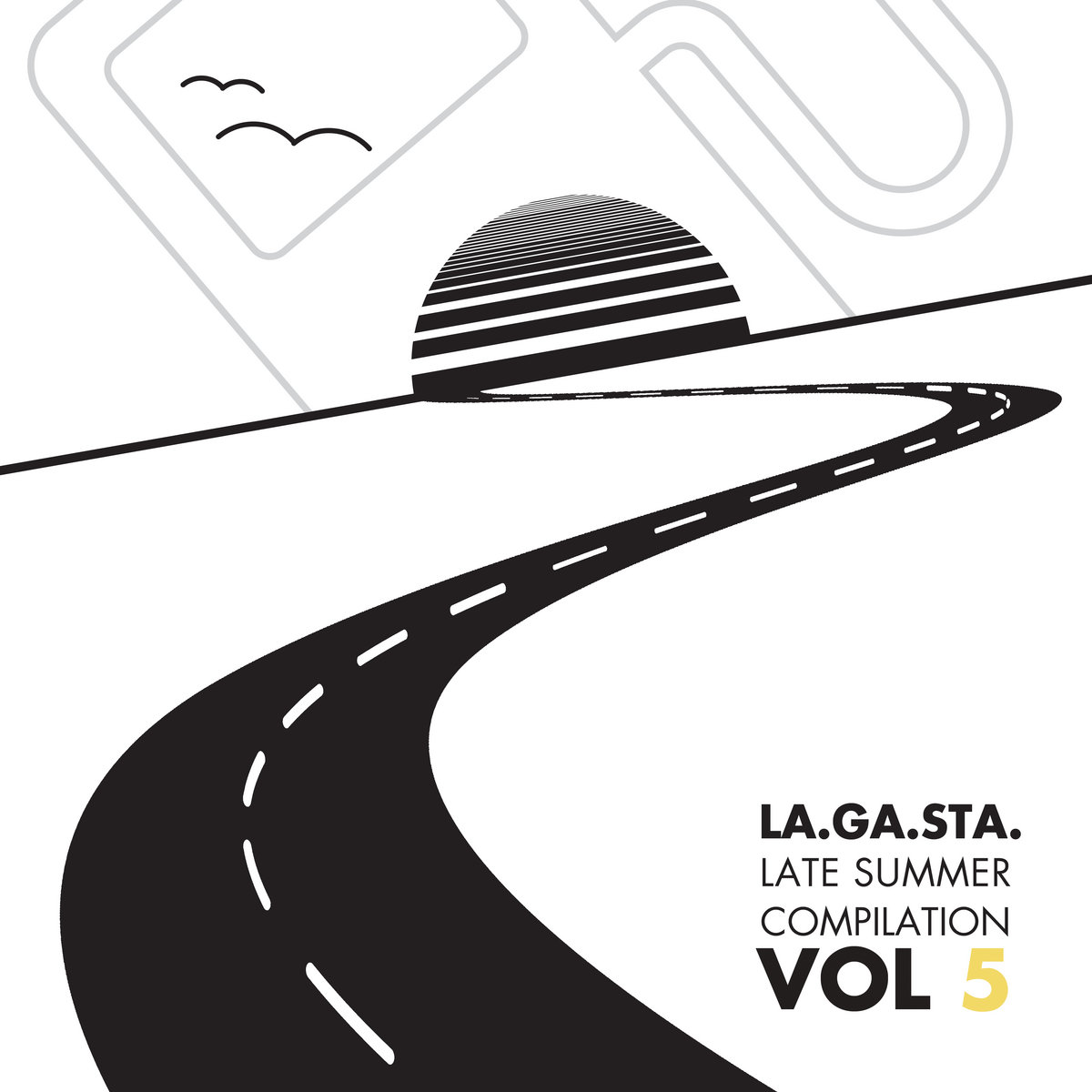 Artwork: Love Lines
Download LAGASTA's Late Summer Compilation Vol. 5 HERE for the price of an email.
Yeah, it's that time of the year when we love to pretend that summer never ends with our annual "Late Summer" compilation. The fifth edition is finally here, featuring 16 tracks from some of our favorite artists and talented newcomers. Brimming with the warmth of those long summer days and sun-kissed vibes of our own road trips, the "Late Summer" compilation Vol.5 takes you on a journey through the most carefree season of the year. While at the same time, we're trying to bring you a selection of different sounds and different flavors that will soundtrack your blissful car rides and fuel you with a never-ending summer feeling wherever you are. Let's make it a summer to remember.
As usual, this year's "Late Summer" compilation features lots of exclusive tunes, including previously unreleased tracks, as well as much-loved gems available as a free download for the first time. We hope you like it as much as we do.
Shout out to all the artists and labels for making it happen.
TRACKLIST
01. HNNY – Solsidan
What a better way to open our new compilation than with one of our favorite tunes of the year so far from Swedish house producer Johan Cederberg, aka HNNY. Effortlessly smooth and mellow, "Solsidan" is an absolute gem of a tune filled with looped-up vocals and sun-kissed summertime grooves. Taken from his second "Solsidan/Alby" EP for the ever-impressive New York-based label Let's Play House, it's now yours for absolutely free.
02. Andras & Oscar – Looking Back (Tornado Wallace Dub)
What a tune! This one feels like an absolute Melbourne affair and it has been on repeat mode all summer. We're so excited to feature on our compilation a sublime track that finds two of Melbourne's finest house names come together. Tornado Wallace delivers a perfectly crafted dub version of András & Oscar's "Café Romantica" standout "Looking Back". Exclusive free download, courtesy of Amsterdam imprint Dopeness Galore and Australian label Chapter Music.
03. Woolfy Vs. Projections – Josephine
Woolfy Vs. Projections, the duo of California-based musicians Simon "Woolfy" James and Dan Hastie, have soundtracked many of our rides with their superb cover of The Smiths' classic "Ask", which was featured on last year's compilation. Fresh off the release of their third album "Stations" on Permanent Vacation, it feels so good to have them on board once again. This time with a stunning, sun-drenched cover of Chris Rea's "Josephine" filled with cosmic disco goodness. Specially made for our compilation Vol.5.
04. Du Tonc – Rise (Mighty Mouse's Discolife Dub)
Good things comes for those who wait. London's disco maestro Mighty Mouse revisits the track "Rise" by everyone's favorite Du Tonc, his collaborative project with Sydney's Matt Van Schie (of Van She fame), for a special "Discolife" dub version. In true Mighty Mouse fashion, this groove-filled tune will light up any dancefloor. His first ever remix on a Du Tonc track is now yours for free. Rise up!
05. The Juan MacLean – Here I Am (Octo Octa Remix)
It always feels good driving around with The Juan MacLean, the duo of John MacLean and Nancy Whang (of LCD Soundsystem fame). Even better, with a new remix for their track "Here I Am", taken from last year's "In A Dream" LP, which also comes as an exclusive free download courtesy of DFA Records. Brooklyn-based house producer Octo Octa has transformed "Here I Am" into an epic, slow burner. It clocks in at nearly eight minutes, and we can't get enough of it.
06. Lauer – Oramorph
Frankfurt-based producer and Tuff City Kids member Lauer is someone we've been following for a long time. After dropping "Borndom", one of our favorite records of the year, the prolific producer offers us a slow ride with his elegant track "Oramorph", specially made for our compilation. With its atmospheric melodies and dreamy synths, the track takes us deeper into the universe of Lauer. Expect nothing but quality.
07. Daniel.T. – Boy
Let's take a late summer drive down the Pacific Coast Highway with Los Angeles-based producer/DJ and avid vinyl collector Daniel.T., also known as one half of Cosmic Kids. His instrumental cover version of Book of Love's "Boy" is yet another fine example of his colorful sound. The track was featured as a digital bonus track on his excellent debut mini-LP "Tetrachromat" on Young Adults. West coast vibes all round.
08. Ольга Чиповская – Сафари (This Soft Machine Edit)
Tim Sullivan, what a guy! Having already impressed us with his recent debut "On & On"/"This Place Was Meant For Me" EP on Eskimo Recordings, Australian producer/DJ has contributed to our compilation his first ever edit under his This Soft Machine moniker. As expected, This Soft Machine delivers the goods, a killer rework of Olga Chipovskaya's '80s electro track "Safari" with infectious grooves for your next exercises on the dancefloor!
09. Cameo Culture – Told You So
Colorful chill-out grooves, lush horns, and tropical-tinged percussions. Brooklyn-based producer/DJ Dave Robertson, better known as Cameo Culture, brings some serious summer vibes with his track "Told You So", our favorite cut from his recent debut album "Burning Bright" on Wolf + Lamb Records. A perfect tune for your next sunset ride.
10. NO ZU – Ui Yia Uia (Bonus Beat with Maria Minerva)
ore heat beat goodness coming to you direct from NO ZU. While their new single "Ui Yia Uia", a slow boogie groover, is getting plenty of spins, the Melbourne heat beat collective delivers a "bonus beat" version of the track, specially made for our compilation. It's an infectious clarinet and sax-filled jam that features vocals from Los Angeles-based musician Maria Minerva. "Ui Yia Uia" is the first taste from NO ZU's forthcoming new album "Afterlife", which is expected to arrive early next year via Chapter Music.
11. In Flagranti – As Fast As I Can
Get your fill of sleazy vintage disco with "As Fast As I Can", a classy tune from In Flagranti, our beloved Swiss duo of Sasha Crnobrnja and Alex Gloor. Released earlier this year via their own Codek imprint, this track is exactly what you'd expect from In Flagranti and arguably one of the pair's finest tunes we've heard in a while.
12. Ben Browning – Friends Of Mine (Cooper Saver Remix)
We're big fans of Cut Copy's bassist Ben Browning, so we're delighted to include on our compilation a previously unreleased remix of "Friends Of Mine". Taken from his recent debut album "Turns", the track gets the remix treatment by LA producer/DJ Cooper Saver, the man behind the Far Away parties and mixtape series. He infuses "Friends Of Mine" with an extra dose of synths, delivering a deliciously summertime jam. What's not to love?
13. Knightlife – Haus Angeles
Absolute fire from Melbourne-based producer and Cutters Records' very own Mike Gamwell, aka Knightlife. For our compilation, Knightlife has reworked The B Boys' '80s classic "Rock The House", turning it into a house floor-filler. Inspired by the L.A. leg of the last tour he did with Cut Copy, the "Haus Angeles" edit is a banger of a tune. Play it loud!
14. McFadden & Whitehead – Ain't No Stoppin' Us Now (Klaves Edit)
Get into the groove with this exclusive disco edit from Polish wunderkind Mikolaj Gramowski, better known as Klaves, who last graced us with his killer double-A-side single "People" b/w "Oh No" on PMR Beat Club. The multi-talented producer works his magic on McFadden & Whitehead's classic "Ain't No Stoppin' Us Now", delivering a dancefloor-ready edit full of infectious grooves.
15. Navid Izadi – Messin (feat. Angelica Bess from Body Language)
Multi-talented San Francisco-based artist Navid Izadi brings some serious heat with his newest track "Messin". Channeling the vibes of uplifting, '80s Latin freestyle, Navid Izadi delivers an addictive club tune featuring vocals from Body Language's Angelica Bess. With its lush synth pads, housey piano keys and soulful boy/girl vocals, "Messin" is just about as infectious as it gets. Exclusive free download, courtesy of Wolf + Lamb Records.
16. Homework – Yakushima Dreams
Filled with mellow grooves and gentle piano stabs, "Yakushima Dreams" finds Homework, the dynamic Amsterdam-based duo of Tom Waist and Zip Stolk, capturing the sun-drenched warmth of summertime deep house. Taken from their recent "Palindrome 1" EP on Let's Play House white-label series, "Yakushima Dreams" is a farewell letter to the end of the summer.