Lovefingers / VA – Fingertracks: Vol 1
LAGASTA TEAM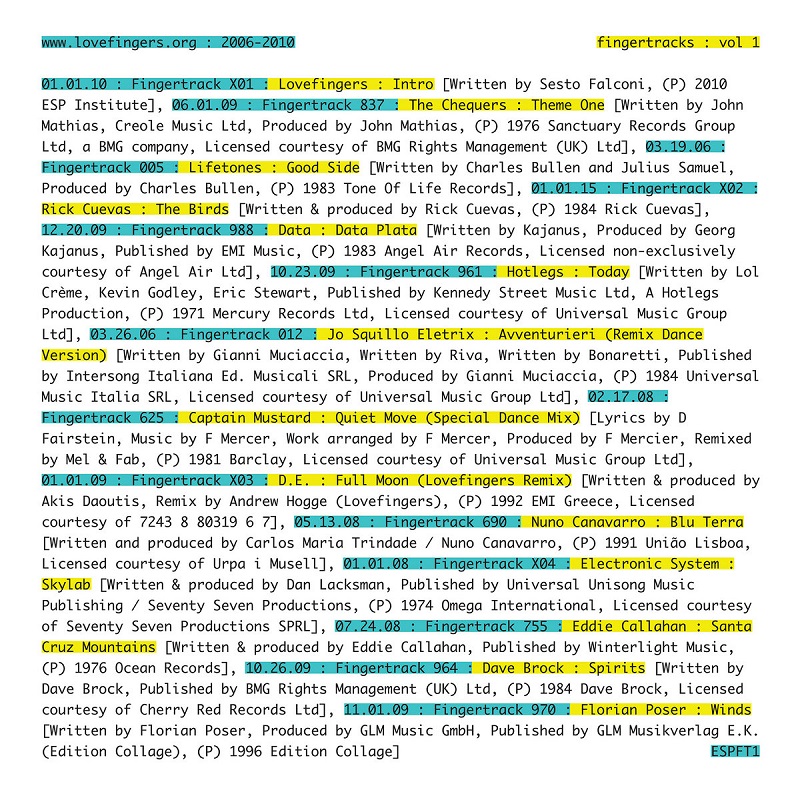 This ride is a special one. It's both the beginning of an excellent sonic trip and the collection of musical treasures of the past.
Our beloved Andrew Hogge, aka Lovefingers, presents his first "Fingertracks vol. 1" compilation. It was back in 2006, when you had to discover music on your own and the musical landscape was completely different than now, that Andrew created the Lovefingers.org series, where he uploaded one song every day for almost five years; the end came on New Year's Day 2010. Among the countless music sites – at least for the ones who used to "dig" the digital world of that time without the "help" of today's social media and the storm of ads and notifications – Andrew's site was an oasis in the desert, a truly open-minded, democratic and educated selection of music for our secret, late-night right click and 'save link as' pleasure. As he says "I never considered Lovefingers.org a 'blog. There was no writing or opinions, the music always spoke for itself. It was more of a giant mix that grew very slowly—a living chronicle."
This excitement of hunting and discovering music and Andrew's contribution to the records' galaxy will be imprinted on ten volumes of the Fingertracks compilations and now we both feel lucky and excited to fuel our ears with the first one, including the sounds of Lifetones, Nuno Canavarro, Electronic System, Eddie Callahan and more. The compilation has been described as "a snapshot of the aural delights that were on offer to those of a 'leftfield' persuasion who found the site and dutifully tuned in for the daily shot of sonics proper. A finely and carefully crafted, lovingly curated handful of records that Andrew has revisited in order to tell the story of his most influential and essential modern musical resource".
Let this exciting tale begin and enjoy its first volume!
"Fingertracks vol. 1" is out via Hogge's much loved label ESP Institute. Get it here.