Slow Hands: NYC – MS Road Trip
Gasboy
Slow Hands
NYC – MS Road Trip
A LAGASTAPE for your car rides. 
"This is a road trip, not a terrace in Ibiza." – Slow Hands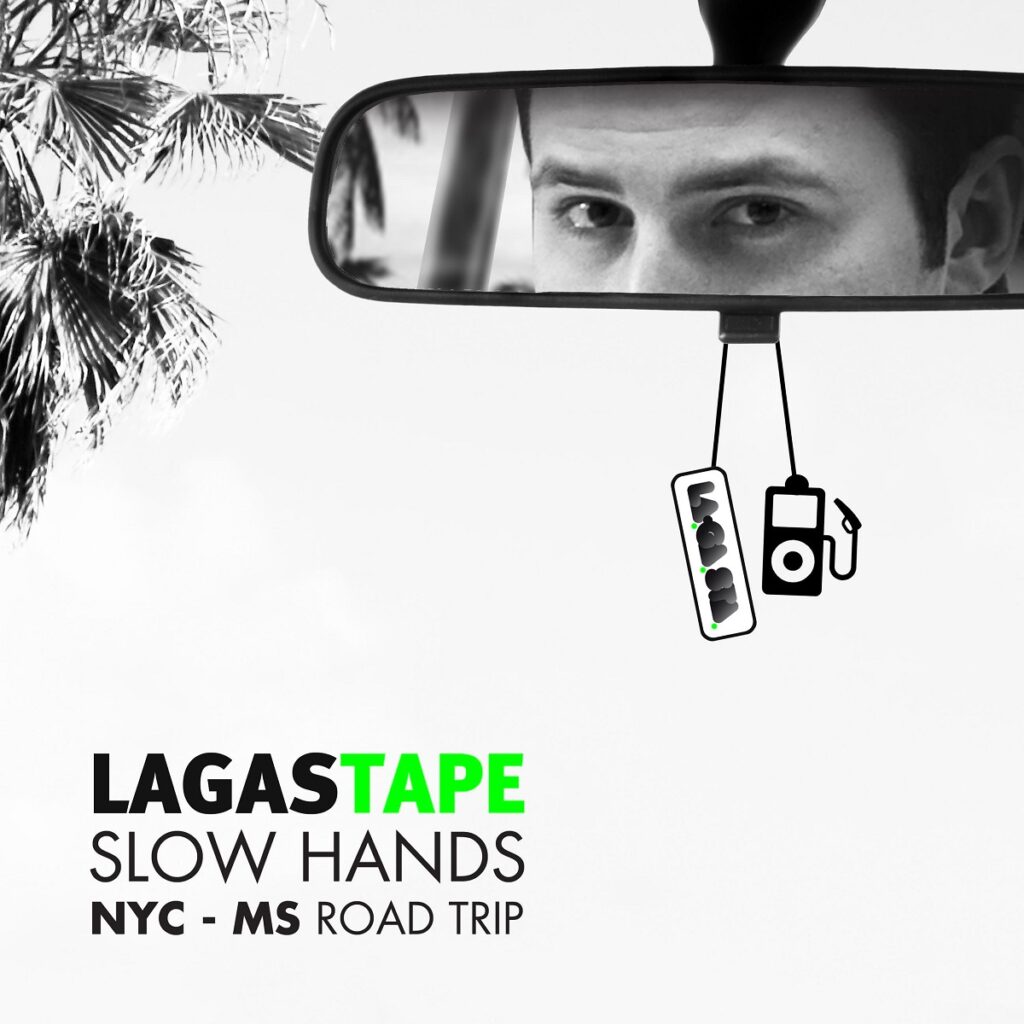 Artwork: Stefanos Michaelides
We are psyched to share with you a special "road trip" mixtape, entitled "LAGASTAPE", tailor made for your car rides. "LAGASTAPE" is not your typical dance mixtape. It's a soundtrack to accompany your next road trip.
"LAGASTAPE" mixtape series comes from our beloved New York-based producer Ryan Cavanagh, aka Slow Hands, who recently wowed us with his excellent debut EP "Everything (We Are)" for Wolf + Lamb Records, jumps in the driver's seat, choosing a destination, playing the songs he loves to hear while driving there and delivers a sublime "LAGASTAPE" to remember.
Grab your keys, and take a ride with Slow Hands' two-hour mixtape full of classic tunes, an imaginary road trip from NYC to the Dockery Plantation in Mississippi. What a ride!
In his own words: "After more than a decade living in NYC never having owned a vehicle, I find myself being asked by LAGASTA for a "road trip" mixtape. Fortunately, I have been a fan of this blog for quite some time, so I stole one half of No Regular Play's car and drove around randomly in an effort to come up with a "road worthy" mix.
During my time driving aimlessly around the city trying to research, it dawned on me that I have never really been on an extensive road trip, not in the traditional "Ryan McGinley"/Levi's sense anyway; flying American flags, shooting off fireworks, drinking bourbon, and meeting random rural babes that strip down and jump into a leach filled pond. I believe I have actually seen more of the rest of the world, than of my own native country. I suppose I can always retire to a giant RV, and drive around selling home made turquoise jewelry that I make in the back…the american dream!
So, having been pent up in the studio working on my album for the last few months, I decided to expend some creative energies through writing. I am going to create a road trip playlist for an imaginary "dream" road trip of mine that goes from NYC to the Dockery Plantation in Mississippi, with a little explanation of each song. Here we goooooo!
Disclaimer: If you are only partial to mixes of smoothly mixed deep-progressive-trance-hop-minimal-nu-techno then please stop here, you will just end up hating more than you probably already do. This is a road trip, not a terrace in Ibiza."
PLAYLIST
John Wizards ~ Hogsback
This song feels like what it might sound like if packing and walking to your car in NYC made a sound. It also sounds a bit chaotic, like traffic!
Jay Z feat. Rick Ross ~ F*ckwithmeyouknowigotit
NYC (JZ) -> Mississippi (RR), c'mon!
Tame Impala ~ Why Won't They Talk To Me?
This song never fails to get me to rock the fuck out, perfect driving song. In our imaginary drive, we would be in Southern New Jersey right now.
Talking Heads ~ Road To Nowhere
No explanation needed. Random Fact: This song was at the end of the Fred Savage movie "Little Monsters". I really need to watch that again.
Steve Winwood ~ The Finer Things
Winwood is a Brit, but this album sounds like it could have been made in Jersey (apologies to Springsteen, "Nebraska" just didn't fit at this moment). It was a real toss up between this and "Higher Love", this won due to the mere fact that it has the best synth solo ever played.
Roxy Music ~ Oh Yeah!
Bryan Ferry is the coolest dude on the goddamn planet.
David Bowie ~ China Girl
This guy was my hero growing up. This song was written with Iggy Pop in Berlin in 1977. What?! If I could live only for one day on this planet, I would have wanted to be the studio engineer the day this happened, or the drug dealer at the very least.
The Knife ~ A Tooth For An Eye
Well, we would be about on the border of where the South begins at this point. Unfamiliar ground to a North Easterner such as myself. This song sounds like unfamiliar ground.
Jimi Hendrix ~ If 6 Was 9
I have only been to Virginia a couple times, and where I was…was, well…pretttttty, prettt-ty rural. This is one of my favorite Hendrix tracks, it's so original, and I first heard it in "Easy Rider" (a life changing film for me). That scene is how I have felt when ever I have spent any time in Virginia.
Aretha Franklin ~ The Weight
While we're on the topic of Easy Rider. This was recorded in Mississippi, and has Duane Allman on the guitar…revo-goddamn-lutionary.
Joe Cocker ~ You Can Leave Your Hat On
Time to pull into a truck stop. I am imagining some sort of cross between something out of a JT LeRoy novel, and Roadhouse. Either way, there is definitely a strip club involved, and this would have to be the song. I had wanted to use The Steve Miller Band's "The Stake", because if I were a stripper, that would be my song, but you can't really deny this reigning as the supreme strip club song.
Righteous Brothers ~ Unchained Melody
I have, sadly, only been to one strip club in my life. It was called 'Wizards', and it was next to the 7-11 in West Philadelphia. I went on a Thursday afternoon. I don't recommend this AT ALL! (the complimentary cold cut platter is absolutely ravaged by the strippers at this point in the afternoon ). So, my strip club experience is left mostly to imagination, but I always thought this would be a hilarious song for a stripper to dance to. Also, we brought up Roadhouse before, and Patrick Swayze was in Roadhouse, and this song was in "Ghost". Boom!
UB40 ~ Red Wine
There must be a truck stop stripper somewhere in Virginia named Red Wine, don't you think?
Steely Dan ~ Peg
Alright! Let's class this shit up already! Get the hell out of the strip club and move along. We're feeling good. What goes with feeling good? Yacht rock, duhh. The bass line in this song is amazing. I had wanted to use Deacon Blues because of the "die behind the wheel" lyrics, but this song is just so awesome. Random Fact: The guitar player for The Doobie Bros and Steely Dan is this guy Jeff "Skunk" Baxter, read his wikipedia page. It is a new goal of mine to consult for the military.
The Steve Miller Band ~ The Joker
Since we look too damn cool blasting Steely Dan, let's get slapped with some classic rock road trip necessities. But not TOTALLY obvious necessities, like certain Tom Cochran songs. Just because classic rock stations play it doesn't make it classic rock. That shit came out in the 90s. You know the song I am talking about.
Led Zeppelin ~ Over The Hills And Far Away
Needs no explanation, solid rad.
Little Feat ~ Dixie Chicken
Lowell George is a god.
Tennis ~ Dimming Light
The sun's going down. Some new stuff thrown in, this band is great!
The Allman Brothers ~ Little Martha
One of the most beautiful songs ever written. If you don't know what to do during the next 4 songs, you probably shouldn't be reading this to begin with (I just hope your with someone more suitable than "Red Wine").
The Beatles ~ Something
If memory serves me correctly, I lost my virginity to this song or maybe it was "Bell Bottom Blues" or both.
Stephen Stills ~ Love The One You're With
Sometimes you've just got to settle.
Eric Clapton ~ Easy Now
If you are in high school, and trying to seal the deal with your lady, and reading this for some strange reason, then take my advice, play Clapton. I don't know what deep seeded Freudian science causes this, but even if a girl thinks "Wonderful Tonight" is cheesy, there is still something to it…perhaps from the countless times they danced to it at middle school sock hops.
Walls Of Jericho ~ A Day And A Thousand Years
WAKE UP!!! Can't fall asleep on the road.
Kanye West ~ I'm In It
If I were to go go down in a blaze of glory, for instance; at the end of a bank robbery, being chased by the cops on the edge of the grand canyon (Heat meets 'Thelma & Louise' style), as I drove off the cliff in a ball of fire shooting my tommy gun back at the police, this is the song I would want playing.
Django Reinhardt ~ Django's Tiger
Playing this dude's music is the only thing that got me into music school, and rescued me from a life spent pumping gas. So I owe him a lot. Epic song title.
Joe Pass ~ Oleo
I love that you can hear the humanness of Pass in this recording or perhaps the in-humanness. It's sick how good a guitar player this guy was.
Nat King Cole ~ L-O-V-E
Route 66 would have been the obvious choice, but I like to sing this one, and sing-alongs are vital to road trips.
Father John Misty ~ Hollywood Forever Cemetery Sings
I know very little about the area we would be in at this point of the road trip, so we are just going to listen to awesome tunes to pass the time. I have seen this dude twice in the last 6 months, he is stupidly talented.
Joe Purdy ~ Outlaws
Fuck me, the lyrics to this are so good.
Ray Lamontagne ~ Narrow Escape
After I am finished with my album, I am focusing %100 of my energy on writing murder ballads. This is one of my favorite more recent ones.
Townes Van Zandt ~ Flyin' Shoes
One of my favorites. If you haven't seen "Be Here To Love Me", then go back in time, start a West Coast Video account and rent that shit!
Arcade Fire ~ Afterlife
This album is pretty great, this song is my favorite. Lyrically it seems a bit depressing, but it feels up-lifting.
Vampire Weekend ~ Worship You
We made it! Pay homage to the God's that once treaded this sacred ground.
Howlin Wolf ~ Wang Dang Doodle
Like this guy!
Slow Hands' "Everything (We Are)" EP is out now on vinyl via Wolf + Lamb Records, while the digital version will arrive on September 15th. Pick up your 12" here.