LAGASTA Late Summer Compilation Vol​.​10 (Part I)
Gasboy
The first volume of the 10th installment
of LAGASTA's ongoing "Late Summer"
compilation series features 15 exclusive
tracks, previously unreleased edits
and much-loved tunes!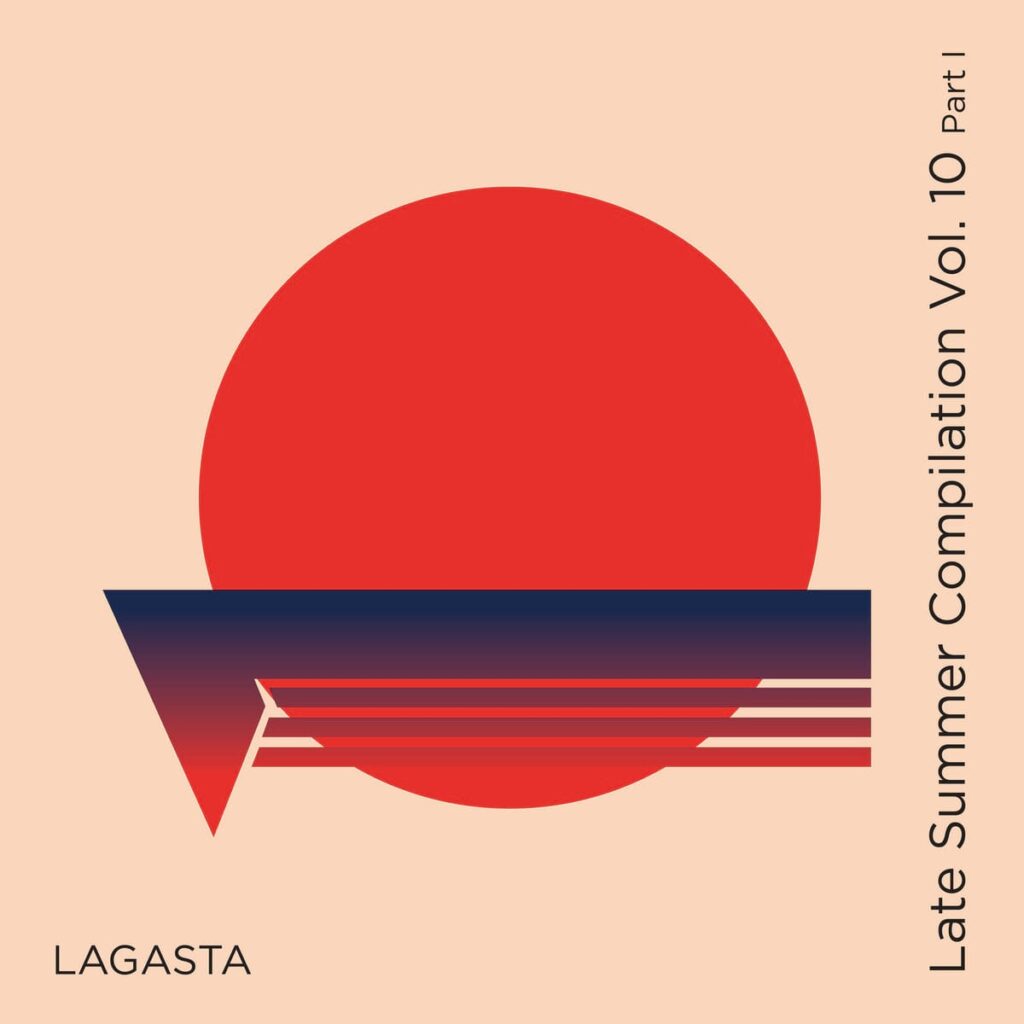 Artwork: Stefanos Michaelides
Download: LAGASTA's "Late Summer" Compilation Vol.10 [Part I] HERE for the price of an e-mail.
LAGASTA celebrates the 10th installment of its ongoing "Late Summer" compilation series in a very special way! This year the "Late Summer" compilation comes in two separate parts, both available for free download, as always, via LAGASTA's Bandcamp page. The first part is finally here and gives us yet another reason to pretend that summer never ends. The "Late Summer" compilation Vol. 10 (Part I) compilation features exclusive tracks, previously unreleased edits/reworks and much-loved tunes, available as a free download for the first time.
The 15-track collection includes tracks by the likes of Gerd Janson x Jacques Renault, Bottin, Kiddy Smile x Yuksek, Colin Self x Planningtorock, Phenomenal Handclap Band x Cooper Saver, Kendal, Longhair, Magou, Brian Ring, System Olympia, Divine Interface, Alma Negra, Romain FX, Michael David x Jex Opolis.
Brimming with the warmth of those long summer days and sun-kissed vibes of our own road trips, the new compilation will take you on a journey through the most carefree season of the year. Shout out to all the artists and labels for making it happen once again. The second part will be dropped soon, so keep your eyes peeled.
So grab your keys, call up your favorite road trip buddies, roll down the windows and crank up the volume. It's time to hit the road!
TRACKLIST
01. Kendal – Into The Abyss [Exclusive]
Young firestarter Kendal, a French producer based in Toulouse and founder of the label Ritmo Fatale alongside Paul Guglielmi, opens LAGASTA's "Late Summer" compilation Vol. 10 (Part One) in the best possible way with his stellar new track "Into The Abyss". Following the release of his second EP of the same name, a four-tracker with a distinctive, melodic take on 80's and 90's electronic tropes on Dischi Autunno, Kendal takes us for dreamy ride with "Into The Abyss", a melody-driven tune with atmospheric vocals and warm melancholic vibe that feels like driving a car at sunset along a coastline.
02. Longhair – Jambo [Exclusive]
Longhair always delivers the goods! The Berlin-based duo of Marko Pelaic (Homeboy) and Bene Bogenberger (one half of Peak & Swift) first wowed us with their sublime self-titled debut EP on Bordello A Parigi back in 2018 and more recently with their killer "The Forbidden Dance" 12" on Love On The Rocks and the "Space Time EP on Permanent Vacation. For LAGASTA's "Late Summer" compilation, Longhair delivers a perfectly crafted summer anthem, a gorgeous rework of Mr. President's "Coco Jambο" that will certainly cause a commotion! Jump on our car and dance with "Jambo".
03. Gerd Janson and Jacques Renault – Never Saw Never [Let's Play House]
Running Back head honcho and Tuff City Kids member Gerd Janson lands on Let's Play House with a killer EP, entitled "Gerd Janson's Jacque'd Toolbox", one of our favorite records we've heard in a while. Following the release of Let's Play House's first "BK Club Beats" remix EP, this new five-tracker is a Gerd Janson solo affair, an assortment of tracks that reinterpret and reimagine the fundamental component of Jacques Renault's 2018's superb second album "BK Club Beats, Breaks & Versions". It's called "Gerd Janson's Jacque'd Toolbox" for a reason. We'll let you use your imagination and figure out what it is. Little bit of something for everyone here, though—disco, house, dirty beats. We're beyond excited to have on our compilation the record's standout cut "Never Saw Never", a sublime slice of disco heat with plenty of grooves to keep you moving all night long and infectious vocal hooks. An excellent groove-filled disco stomper.
04. Magou – La Mosca [Magou's Disco Bugs]
It's time for a disco edit from the mysterious Magou, who's making future disco since 2030! Following the release of his great "Dreams" EP for Toy Tonics, Magou, a new alias of a producer who is "very well known in the contemporary disco scene", has returned with the first installment of his "Disco Bugs" series, a vinyl-only release of rare vintage Italian disco edits. Here we have for you the record's A-side cut "La Mosca", a sublime edit that has been on repeat on our car stereo all summer. It's now available for the first time in digital format. You snooze, you lose.
05. Max Pask – Ma Voisine Aime La Trance [Exclusive]
Brooklyn-based Frenchman and Throne of Blood's own Max Pask needs no introduction. A remix maestro and avid lover for vintage analog gear, the prolific producer, DJ and musician never ceases to amaze with his production skills and his killer sets. Last year, he wowed us with his remixes of Evans Pyramid's 1978 track "Never Gonna Leave You", in collaboration with Joakim. More recently, he teamed up with NYC legend Justin Strauss for a new project called Each Other, and their playful debut EP "Be Nice To Each Other" dropped via Soulwax's label DEEWEE. For LAGASTA's new "Late Summer" compilation Vol. 10, Max Pask contributes a great new original track, entitled "Ma Voisine Aime La Trance", a energetic synth-driven jam for maximum overdrive. Your neighborhood will love it too. Word.
06. Bottin – Got Headphones? [Artifact]
We've been following Bottin for such a long time, and it's safe to say that our beloved Italian producer, DJ and stalwart editor never fails to disappoint. His newest release, a 12" entitled "Artifact 13" on the impeccable Artifact series, finds him in such fine form delivering four classy edits of Italo-disco and Balearic goodness. For LAGASTA'S compilation, Bottin contributes the record's B-side first cut, "Got Headphones?". On this killer edit we cross the U.S. of A. for some naughty Californian Hi-NRG treat, better served straight into your ear channel. Put on your headphones and crank that volume up!
07. System Olympia – Erotic Line [Huntleys + Palmers]
Get ready for some serious dancefloor heat from British producer and DJ System Olympia. We've been fans of her NTS show over the past few years and her productions have been hitting the spot too. With dancefloors still seeming a long way off, her recent superb "Delta of Venus" LP on Glaswegian label Huntleys & Palmers full of feel-good synth, boogie and electro jams, have been keeping our spirits up during lockdown. On the record's standout cut "Erotic Line", the wonderful System Olympia crafts a gorgeous Italo groover that will make sweat!
08. Kiddy Smile – Be Honest (Yuksek Remix) [Neverbeener]
Parisian DJ, dancer, producer and vocalist Kiddy Smile, aka Pierre Hache, who's said to be "deeply Influenced by the '80s and '90s house music and the fabulous legacy of the ballroom scene", has been causing quite a stir since his debut on Defected in 2016 with the ace track "'Let A Bitch Know". Kiddy Smile recently dropped a remix package of tracks off his superb debut album "One Trick Pony", which was released last year. Our favourite remix from the pack is here and comes from French electro maverick and Partyfine label founder Yuksek. On his remix of "Be Honest", Yuksek transforms the original soul-influenced house track into a dancefloor heater. Satisfaction guaranteed.
09. Divine Interface – So Fine [2MR]
Atlanta-based Drew Briggs, aka Divine Interface, is the latest addition to the 2MR family. A fixture in Atlanta's DJ scene by night and an employee of a sex furniture distributor by day, Briggs just dropped his first single for the label, the addictive late-night gem "So Fine". Though he's spent the better part of his adult life in the local scene, Briggs only recently began recording under the name Divine Interface, chosen for the otherworldly sense of communion he felt when making and sharing music. It was under this moniker that he began using his own vocals on his tracks, and crafting the kind of dynamic party grooves that can only be made by someone who's spent years attending them. His last solo EP, 2017's "Precious Cargo", demonstrated his talent for making dance floor bangers and after-party hits alike. Three years later, he's concocted a perfect fusion of the two: "So Fine" is a concentration of Precious Cargo's best moments, with a dose of sentimentality that suggests more to come.
10. Colin Self – Survival (Planningtorock Remix) [RVNG Intl.]
Colin Self challenges boundaries of perception with his art, music, and performances. His latest release "Orphans" on RVNG Intl. is a satellite in the orbit of "Elation", Colin Self's speculative multi-act, sci-fi operetta that conceptually concluded with the 2018 "Siblings" LP. In part a prequel to "Siblings", the four-tracker "Orphans" continues to center non-biological family storytelling based on the forgotten, unnamed, and marginalized. The record also features a sublime remix of Colin Self's 'Survival" by the one and only Planningtorock, aka celebrated gender-queer song writer, composer, producer and director Jam Rostron. Truly magical.
11. Phenomenal Handclap Band – Riot (Cooper Saver Remix) [Toy Tonics]
New York's indie disco and funk crew Phenomenal Handclap Band have returned with their new album "PHB" full of delicious funk-filled groovers on the ever-excellent Berlin dancefloor label Toy Tonics. More recently, the band dropped a spectacular set of four remix renditions of tracks from the album by the likes of NYC Disco legend Danny Krivit, London's edit maestro Ray Mang and David Bay. Our favourite remix of the pack comes from Cooper Saver. The prolific Los Angeles producer and DJ serves a breakbeat club-ready version of "Riot" that kicks ass. Just perfect for your late summer car rides.
12. Alma Negra – Fire [Codek Records]
The Alma Negra collective consists of three Swiss based friends and kindred spirits. Crossing many musical traditions their eclectic sound is perhaps a result of their varied and cross cultural backgrounds. The Figueira twin brothers, Dersu and Diego who have their roots in Cape Verde and Mario Robles who has Spanish roots. Collectively the threesome's influences and skills are wide ranging, pooling a vast musical knowledge from jazz to African and Latin-music, Donald Byrd to Fela Kuti to Theo Parrish to name a few respected musicians. Following the release of the club-ready "Manta" EP via their own Alma Negra Records, Basel's Alma Negra brought some serious dancefloor heat with their "Fire" EP, a great three-tracker of their own re-edits, released via In Flagranti's Codek Records. The record's title track, a killer percussion-filled disco edit that clocks in at nearly seven minutes, is an absolute surefire winner.
`13. Brian Ring – Aperol Spritz [Exclusive]
Berlin-based Irishman Brian Ring has made a name for himself since the release of his superb debut EP "Movements" on Gerd Janson's Running Back all the way back in 2015. With his latest three-track "Journey" EP released in March via his own imprint Clutching At Straws, the prolific producer and DJ has created one of his finest works to date.The record's standout cut "Emperors Dance", an infectious groove of euphoria, has been on repeat on our car stereo for months. For our new compilation, he contributes a brand-new original track called "Aperol Spritz", a sublime track tailor made for your next road trip. A perfect late summer affair. A highway bliss. Romain FX – Diapason
14. Romain FX – Diapason [Exclusive]
A Frenchman in Hong Kong by way of the States, the prolific producer, DJ and founder of Hong Kong's Fauve Radio Romain FX has been a key innovator in the Hong Kong and Asian music scene for the past 12 years. He recently launched his production career with quality releases and killer edits on his own imprint Fauve Records as well as on other labels such as Fantastic Voyage, Mamie's Records, Ca$hminus, 41,000Hz Social Club, Hard Fist Record, Fine Coincidence and Escaped Records. Now he takes from a long ride from Asia to Europe and back again with his great newl track "Diapason", exclusively for LAGASTA's "Late Summer" compilation. Of course, we'd expect nothing less from Romain X. Pure class! Pump up the volume and enjoy the ride!
15. Michael David – Rain II (Jex Opolis Remix) [Cascine]
Over the last decade and a half, Michael David, popularly known for his work as one half of LA duo Classixx, has made many kinds of records, but always with other people. In 2015, he made something of his own for the first time ― a bleak, post-apocalyptic single released under the name Studio Paradiso. Last year, Michael David stepped out on his own with his first solo release, the "There In Spirit / Rain II" EP, on Cascine. Recorded late at night on a Tascam multitrack tape recorder, the record finds Michael David bending and melding organic instrumentation into something layered and uncanny: guitars chop and glimmer, beats cascade and push forward. The record also included a solid version by fellow seeker, Jex Opolis. This remix is a truly perfect closer to our compilation.
Ride with us.