LA.GA.STA. presents: LAUER at Dalston Superstore
Gasboy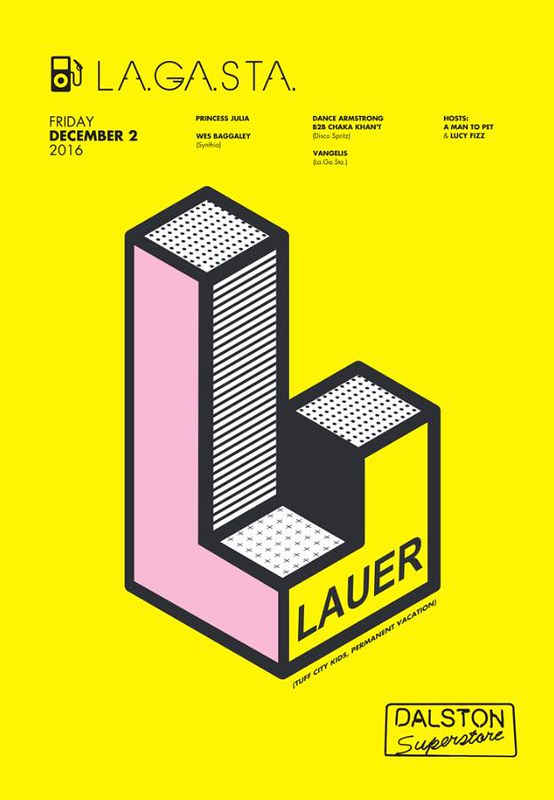 We are thrilled to welcome the mighty German producer and Tuff City Kids member Lauer for our next La.Ga.Sta. party at our favorite hangout Dalston Superstore. Joining him on December 2 is a lineup of friends and amazing humans: Princess Julia, Dance Armstrong & Chaka Khan't (Disco Spritz), Wes Baggaley and your hosts for the night A Man To Pet and Lucy Fizz. It's gonna be a great event, a ride not to be missed.
Frankfurt-based DJ/producer/musician Phillip Lauer is someone we've been following for a long, long time. He performs as Lauer and also as one part in the duos Arto Mwambe and Tuff City Kids alongside with Running Back's head honcho Gerd Janson. Raised on a strict diet of hip hop & punk rock, Philipp finally succumbed to the pleasures of electronic music in the late nineties when he started to produce deep house tracks.
His excellent debut solo album "Phillips" was released back in 2012 on Running Back, followed by "Borndom" in 2015 on Permanent Vacation. This year saw Mr. Melody dropping two great EPs, "Birsk"/"Kilian" on Futureboogie and "Tearsh" on Live At Robert Johnson, and more recently Tuff City Kids' debut album "Adoldesscent" on Permanent Vacation. We'd expect nothing but quality from Lauer.
LA.GA.STA. w/ LAUER (Tuff City Kids/Permanent Vacation) Friday 2 December 2016 @ Dalston Superstore 21:00 – 03:00 Free before 23:00 / £6 after. Head over to our Facebook event page for more info.