La.Ga.Sta. presents: "ΓΚΑΡΑΖ" w/ Cut Copy's Bobby Boomerang & Knightlife
Gasboy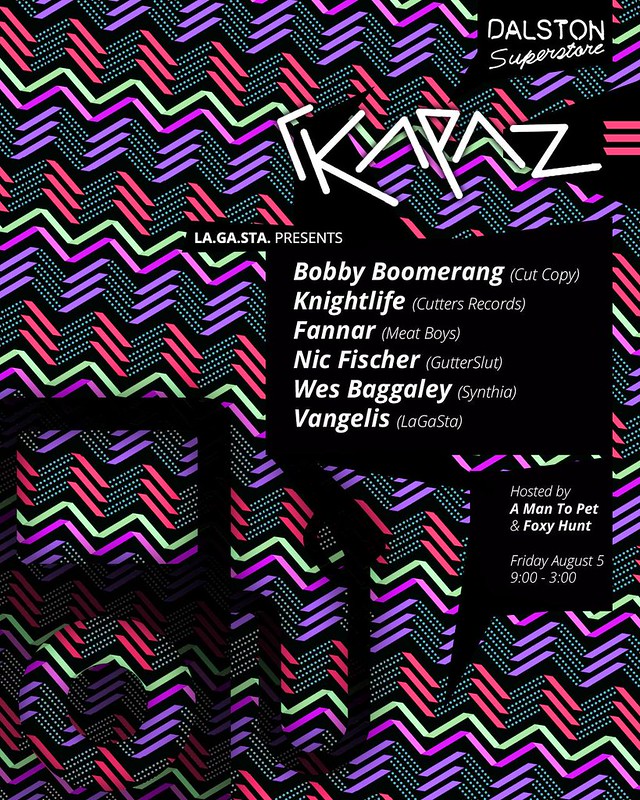 Tomorrow is party time! La.Ga.Sta. is driving to London for the second "ΓΚΑΡΑΖ" (Garage) event at our favorite hangout Dalston Superstore. Driving with us on August 5th will be two of our favorite peeps, Cut Copy's frontman Dan Whitford under his dance alter-ego Bobby Boomerang and fellow Aussie DJ/producer and Cutters Records very own Knightlife. They are joined by resident Vangelis, Nic Fisher, Fannar and Wes Baggaley. It's gonna be epic fun. Get on down!
Bobby Boomerang (Cut Copy/Cutters Records)
Cut Copy's frontman and Cutters Records label boss Dan Whitford recently stepped out from behind the microphone to drop his ace debut solo release, a two-tracker called "Uncharted Waters", under his dance alter-ego Bobby Boomerang. Dan Whitford has long held a fondness for the deeper reaches of dance music, having DJed an eclectic mixture of house and disco and in Melbourne's clubs some years before keyboards and guitars cross pollinated to bring Cut Copy into existence. And in some ways his first solo release is a musical homecoming. On "Uncharted Waters" we find Bobby Boomerang returning to its place of origin to explore his reinterpretations of Balearic house and techno, generated by experiments with his menagerie of vintage drum machines, samplers, and keyboards.
Knightlife (Cutters Records)
Australian producer and DJ Mike Gamwell, aka Knightlife, who now has found home in deepest Bath in the UK, never ceases to amaze us. Since first emerging from Melbourne's smoke-machine laden dancefloors during disco-tinged house revival of the late '00s, Mike Gamwell's penchant for forward-thinking electronica paired with meticulous production has entrenched him in the upper echelons of Australian producers. Signed to Cut Copy's authoritative Cutters Records in 2007, over the next few years Gamwell released a string of excellent EPs and top-notch remixes that succintly encapsulated the sights and sounds of ever-evolving electronic landscape.
La.Ga.Sta. presents: "ΓΚΑΡΑΖ" w/ Cut Copy's Bobby Boomerang & Knightlife
Friday 5 August 2016 @ Dalston Superstore
21:00 – 03:00 | £7 on the door all nigh
Laser Pit: ● Bobby Boomerang (Cut Copy / Cutters Records) ● Knightlife (Cutters Records) ● Vangelis (La.Ga.Sta.)
Bar: ● Nic Fisher (GutterSlut) ● Fannar (The Meat Boys) ● Wes Baggaley (Synthia)
Hosted by: A Man To Pet & Foxy Hunt
For more information, visit the event Facebook page.