LA.GA.STA. presents: Jacques Renault & Daniel.T. at Dalston Superstore
LAGASTA TEAM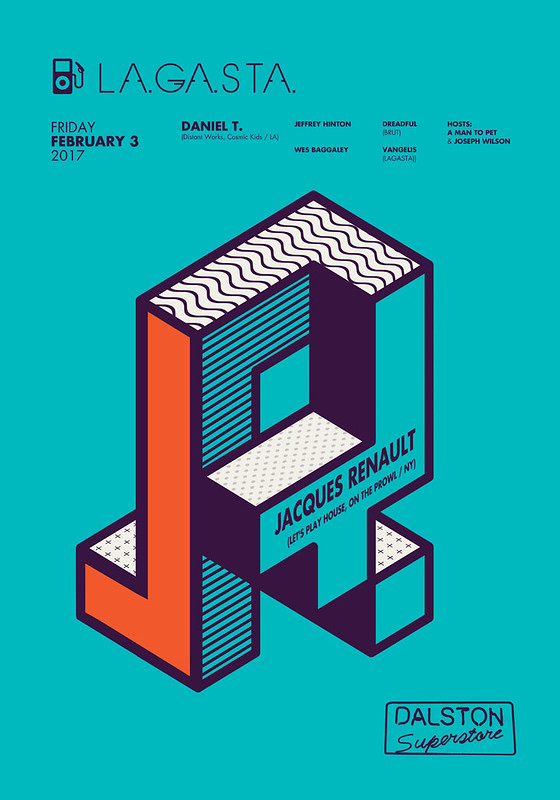 We are thrilled to welcome NYC producer/DJ and maestro of disco edits Jacques Renault and all round cool guy Daniel.T., also known as one half of LA duo Cosmic Kids, for our first La.Ga.Sta. party of 2017 at our favorite hangout Dalston Superstore. Joining them this Friday 3 February from 9pm-3am is a lineup of friends and amazing humans: Jeffrey Hinton, Wes Baggaley, Dreadful (Brut), Vangelis (La.Ga.Sta.) and your hosts for the night A Man To Pet and Joseph Wilson. This will be a disco night to remember!
JACQUES RENAULT
NYC producer/DJ Jacques Renault, co-founder of On The Prowl Records and Let's Play House party/imprint with friend and partner Nik Mercer, needs no introduction. We're more than excited for having him as a guest at our next LAGASTA event. Our beloved producer and DJ had yet another fantastic year with two remix EPs on Let's Play House, an album full of edits on Local Talk and numerous quality remixes, including reworks for Midnight Magic and Yuksek, among others. He will spin at Superstore's basement just one day before his set at Panorama. Ahead of his DJ set at Dalston Superstore, Jacques Renault did a Q&A with Vangelis from La.Ga.Sta. about life, radio and noise.
DANIEL.T.
Los Angeles-based producer/DJ Daniel Terndrup, also known as one half of Cosmic Kids, is someone we've been following since the beginning. All the way back in 2011, when Cosmic Kids dropped their debut "Reginald's Groove" 12" on Throne Of Blood, an instant classic. Over the past two years, the talented producer and avid vinyl collector has been flying solo as Daniel.T., delivering top-notch remixes and original tracks, groove-filled disco edits and mixtapes for sunlit road trips. For the first time in four years, Daniel.T. returns to Superstore to celebrate with us the release of his superb new EP "Fahrenheit/Celsius" on Cosmic Pint Glass. Get into the groove!
Head over to our Facebook event page for more info.