La.Ga.Sta. presents: "ΓΚΑΡΑΖ" w/ Alexis Taylor, This Soft Machine, Private Agenda
LAGASTA TEAM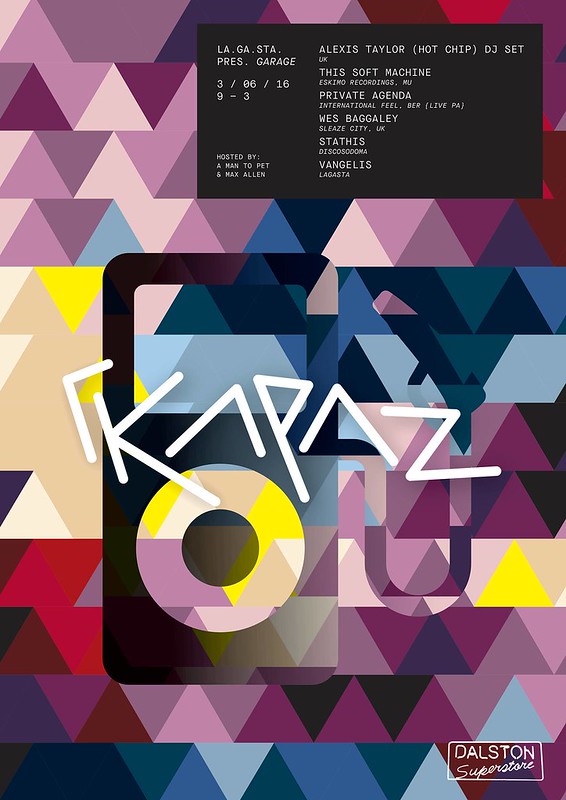 "There's a party in my mind…And I hope it never stops." La.Ga.Sta. is driving to London for a new clubnight called "ΓΚΑΡΑΖ" (Garage) at our favorite hangout Dalston Superstore. Driving with us this coming Friday June 3 will be one of our all-time heroes, Alexis Taylor of Hot Chip for a special DJ set. We're also excited to welcome two of our favorite artists for their London debut, Australian producer Tim Sullivan, aka This Soft Machine, and Berlin's disco/balearic outfit Private Agenda. You won't want to miss this one – trust us. Get ready to get your groove on!
La.Ga.Sta. presents: "ΓΚΑΡΑΖ" w/ Alexis Taylor, This Soft Machine, Private Agenda.
Laser Pit: Alexis Taylor (Hot Chip), Stathis (Discosodoma), Vangelis (LaGaSta)
Bar: This Soft Machine (Eskimo Recordings / MUC), Private Agenda -LIVE PA- (International Feel / BER), Wes Baggaley (Sleaze City)
Hosted by: A Man To Pet & Max Allen
Friday 3 June 2016 @ Dalston Superstore | 21:00 – 03:00 | £7 on the door all night
For more info head here.